Cy-Fair Home Show at the Berry Center in Cypress, Texas
Southern Front Stained Glass & Door is a family business in Houston, Texas owned and operated by Jesse and Liz Salinas.
With over 28 years in the industry, we have the expertise to deliver quality products at very competitive prices. Also, we're committed to providing our clients with only the best. Southern Front Door can provide you with standard outdoor doors, and we also offer custom-made products to suit your specifications.
We stain our doors here at Southern Front Door the old fashioned way. With an oil-based finish to achieve a luxurious, beautiful look. We can also install our font and doors outside for Houston customers. Check out our Crate and Freight Program for those living outside of Houston city limits.
The program includes curbside delivery to the workplace, job site, or office clients. Ask one of our professional sales representatives to hear more about our distribution system for Crate and Freight at the Cy-Fair Home Show in Cypress this spring!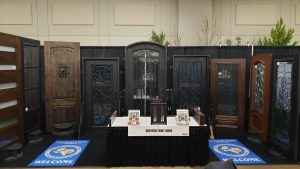 Cy-fair Home Show
Southern Front Door will be premiering at the Cy-fair Home Show this spring as an exhibitor. We are thrilled to help you find the door of your dreams and start the process of you getting your dream door. Come and visit us at the Cy-fair Home Show in Cypress, Texas. We will be at Booth 901.
We look forward to meeting you.
The show is on March 21st, & 22nd and the show hours are from Saturday (9 am – 6 pm) and Sunday (10 am – 5:30 pm). The ticket prices are $10 for adults. Seniors tickets are $9. And children 12 and under get in free.
Parking is free for all who attend and come. So come out and join us. Let's get you that door you daydream so much about during your day.
Map & Directions
Show Attendees will enter Entrance Two off Barker-Cypress Rd. just south of the West Rd intersection. In addition, Two attendees will see the parking lot and the show entrance straight ahead when they enter the entrance.
The Richard E. Berry Education Support Center, 8877 Barker-Cypress Drive, Cypress, Texas 77433, is a new multi-purpose state-of-the-art building located in Cypress, Texas's Houston suburb.
If you have any questions about our products and services don't hesitate to call us at (281) 890-5860.
Therefore, now since you know how to get to the show come to the Cy-Fair Home Show at the Berry Center in Cypress, Texas and visit us; let us make your dreams come true.