Energy Efficient Steel Doors
Energy Efficient Steel Doors
Have you been looking to install new front doors because your current doors are not as energy efficient as you would like? Perhaps you are beginning to an enormous amount of sunlight and cold is able to get past your current front door. If this sounds like you, Southern Front Doors is here to help you. We provide the most energy efficient steel doors to ensure you are able to run your house at peak efficiency levels.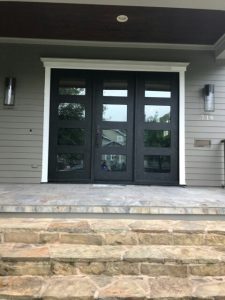 Are you wondering how steel doors are the most energy efficient doors on the market? Here at SouthernFront Doors, are steel frames are designed to prevent summer heat and winter cold into the home. The reason a steel door is able to prevent summer heat and winter cold coming into your home is that the steel skins are very thin and the indoor and outdoor skins do not actually touch each other. There is an insulating thermal break between them. And the core of the door is made of foam insulation with a high R-value. The higher the R-value, the greater the insulating. R-value is a measure of how well an object resists conductive heat flow. So, having a higher R-value impacts how much money you could save on your energy bills.
Another reason a steel door is energy efficient is the airtight weatherstripping that you do not see in other doors. Most steel doors use magnetic weatherstripping, which is similar to the seal around a refrigerator door. This magnetic weatherstripping actually sticks tightly between the two surfaces. Most wood and fiberglass doors rely on compression or sliding seals, making them not as airtight like steel doors can be. 
Contact the Professionals at SouthernFront Doors Today
Are you wondering if there are many options of steels doors to choose from? At Southern Front Doors, you are able to select from a wide range of manufactured steel doors. And then you will then be able to select the finish that best suits your home. Finishes include-
Satin finishes in black, French gray, or oil-rubbed bronze.

Antique finishes in pale bronze, pewter gray, or copper bronze

If you are looking to maintain a lower energy bill and ensure the outside weather is not getting into your home, steel doors offer just that. With Southern Front Doors, you will get fantastic steel doors, great prices, and excellent customer service. Give us a call today to learn how we can transform your doors by dialing 281-890-5860. Or stop by our showroom off of Jones Road to see what we can offer you today. Don't waste any more time today with your tired, old doors, and upgrade to something that is beneficial and timeless. We look forward to hearing from you and showing you how Southern Front Doors offers the best steel doors on the market!