When you are looking to get custom doors The Woodlands Tx that means you want to stand out! Steel doors are often seen in commercial buildings and they are starting to become popular with homeowners. If you want security, energy efficiency, and appearance then a steel door is what you want. Here are some facts about steel doors:
Steel doors are available in heights of 6'8″ & 8'0″
Black, French grey, and oil-rubbed bronze stains are available
Pale bronze, pewter grey, or copper bronze are the antique finishes
Windstorm installation by Buffalo Forge & ThermaPlus
Built with 18-gauge dent-resistant steel
A built-in composite threshold prevents warping or rotting
A patented thermal-break design around all four door edges prevents summer heat or winter cold from getting in the home

Financial By Synchrony Financial
If you need financing, we are partners with Synchrony Financial. Financing is an attractive option for homeowners that want to improve their curb appeal. If you qualify, you will not have interest for 18 months with rates that are below standard retail. The approval process is quicker than most if you want to get started quickly. There are options when it comes to payment and convenient payment arrangements can also be made. If you want secure financing through Synchrony Financial then speak to a Southern Front Door sales representative when you come to our showroom.
Durability with Fiberglass Doors
Fiberglass doors are The Woodlands Tx custom doors of choice! These doors have a beauty, unlike any other door. The durability can be put to the test and pass every time. The security you will feel inside your home is unbeatable. Fiberglass doors have the same benefit of wood, steel, and iron doors but all in one. Steel entry doors are attractive to Houstonians as a replacement door for the entrance to their home.
Fiberglass – Incredible Custom Doors
Fiberglass exterior doors are extremely versatile. For example, your door can be painted any color you want. These doors can be customized to fit the finish, height, and overall appearance to your liking. The durability is a remarkable advantage that fiberglass doors have. These entry doors can resist dents, scratches, and rust better than other materials.
You will find that fiberglass doors have a higher upfront cost when you do your comparisons to other door products. There are lower energy costs affiliated with fiberglass doors and you will find other savings when you make the decision to have this type of door installed. Fiberglass doors require such little maintenance and Houstonians love that! You can have your new front door delivered to you if you happen to live outside of the Houston area. We offer our Crate & Freight Program that includes curbside delivery to your home, job site, or office.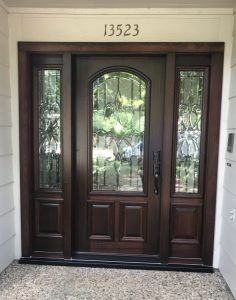 Beautiful Selection of Custom Wood Doors
There is a wide range of residential hardwood front doors in Southern Front Door's Showroom. You can make a solid good first impression with a brand new wood front door. The front door says a lot about your curb appeal and is a representation of who you are. Crafted hardwood doors will give you class and elegance unlike you have ever had before. You want to have that warm inviting feel when you walk into your home. You can make that happen if you visit the Southern Front Door Showroom. Here are some facts about our wood doors:
Mahogany, Knotty Alder, and Andean Walnut
Custom build your new wood front door
Top-quality wood with wide stiles and rails, heavy raised molding and laminated skins. The jambs are stain-grade and match
There are 24 different colors with three coats of marine grade polyurethane with a satin finish
These doors have windstorm-options available
Make an Extraordinary Impression with Iron
Compared to conventional wood or fiberglass, iron custom doors The Woodland Tx is sure to make your Montgomery County home stand out. Iron doors have a traditional look to them for those that want to have that ambiance. Here are some facts about our iron doors:
There are over 100 different styles available
You can design your custom wood door
Three different lines with three different price levels
Doors are top quality, with 14-gauge iron, 5/8-inch grills, and heavy-duty barrel hinges, pre-hung-e-coated-and powder coated
Impressive range of heights available including 6'8″, 8'0″, and 9'0″
Widths are 36″ or 42″
Glass options include Granite, Costwold, Reeds, Flemish, Glue Chip, and Clear
Glass Panels are open on most models for cleaning; they can also open for speaking to visitors or to let in the fresh air
Why Iron Should be in Your Home
Iron has a timeless beauty. The stunning craftsmanship of an iron door is very unique. There is nothing like an iron front door. Your home is your castle, that is what an iron door says. The classic look of an iron door conveys prestige, class, and worth.
Iron doors prevent break-ins from the front entrance to your home. No one can get through an iron front door. Iron doors are fire-resistant. The way the weather is in Texas, your front door needs to withstand unpredictable weather. Government buildings and castles have iron doors which state power. If you want to power trip then you need to get a new iron front door from Southern Front Door!
Contact Us
If you want to see our custom doors The Woodlands Tx online, click here. Otherwise, come by our showroom at 11234 Jones Road West, Suite B Houston Texas 77065. If you would like a private showing or talk to a sales representative when you arrive, schedule a meeting by calling (281) 890-5860. We can't wait to meet you!
Fun Facts about Houston
Hurricane Harvey did $55 billion in damage to Houston
NRG Stadium is the home of The Houston Texans
There is an underground pedestrian tunnel downtown