Have you been looking for the right Houston exterior double door for you and your family, but you can't find it? Sometimes it can be complicated and challenging to choose the double doors for your home. If you need some added help with this, know that Southern Front can be the company that assists you in every aspect. We've got tons of crew members and installers that work on doors like these all the time. Read more to find out how we can help you get the best doors in Texas.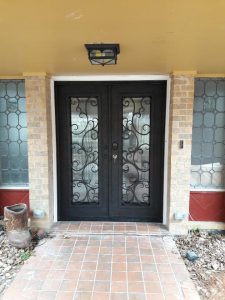 Have you been chasing the look of a Craftsman-style door? These are very common amongst Texans who are trying to achieve a very high fashion aesthetic. If you want double doors that stand out for years to come, this might be the best option for you. Doors like this are usually characterized and distinguished by straight lines, organic materials, and handmade craftsmanship. While the door itself might look minimal, where it shines is in its stained glass inserts. We have many custom glasses that we can put into your doorway so you will be able to let natural light in. Consult with our designers to find your style; we want our customers to have a door they can enjoy for years to come!
These types of doors are very excellent and elegant. However, in addition to being timeless and classic, they are also very energy efficient. Many of these products now come equipped with glass inserts and other quality materials. These do not only improve the look of the final product. They will also help it let light in while keeping heat out. This will allow you to have beautiful days in your living room without having to keep the air conditioning blasting all day.
Double door options for your entryway
Are you worried about how you are going to secure your double door in the right way? We understand that it can be tough and making sure you have safety important. One of the most popular methods of making this more secure is installing door screws. These are much better than nails as it allows the lockset to get a tighter grip on the actual doorframe itself. Another popular option amongst our customers is getting a multi-point locking system. This type of technology incorporates four separate pins around the lock. When you have these, you're giving yourself double the resistance than usual. You won't have to worry about any common criminals with options like these at your disposal.
If you are considering a steel door, you are most certainly not alone. Many of our customers love this option due to its security over the other types of materials it's up against. Unlike other versions of doors, this is not a product you can "kick in" to gain access. The galvanization allows this to withstand a lot of hits and impact. Furthermore, the zinc oxide coat will help it fight off rust for years to come. This means you will be setting yourself up for a safe, low maintenance door that will last awhile.
Heavy-duty options for durable doors
While steel is a very durable material, it is not something that everyday customer can install on their own. If you want to make sure this gets done right the first time, make sure Southern Front is the company you call. Measurements, weights, and other precise components of door installation have little margin for error. Even the slightest mistake could cause the entire process to become thrown off. And if that happens, you will be wasting precious time. With our installers, you won't have to worry about this becoming an occurrence. We have a gallery of before and after pictures of our work and an inventory of what we currently have in stock.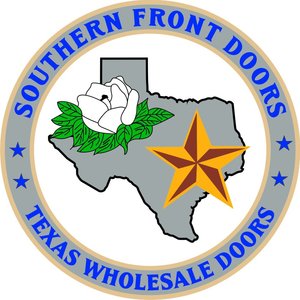 Don't forget about our wrought iron hand-forged doors! We know that this is one of the best materials out there to use for entry doors. If you're someone who cares about security, strength, and long-term value, this is it. As long as you watch out for potential rusting, you won't have to worry about this going wrong at all.
Our Houston exterior double door selection is extensive, versatile, and very varied. If you're not sure how you're going to get your doors picked out, but you think you might have an idea, let us know. At Southern Front, we pride ourselves on working with customers to ensure they get what they want. Whatever your plan is for your entryway door, let us know! With our many customization and installation services, we think we have something for every Houstonian. Call us at (281) 890-5860.
Fun Houston Facts
Houston has one of the absolute youngest populations in America. This great community also contains the 3rd biggest Hispanic and Mexican populations in the USA.
Houston boasts over 40 colleges, universities, institutions, and trade schools – we offer higher education options to suit all interests.
Houston's economy thrives and grows at a national rate. Try taking other countries into account for comparison. Only 21 of them besides North America have a gross domestic product that exceeds Houston's regional gross area product.
For more information on our city, visit https://www.houstontx.gov/.