With many Houston Texas Front Entry Door companies being available nowadays, it can be tough finding the right one for you. Have you been unsatisfied with your doors for a long time now, and you're ready for something different? If so, Southern Front is the local company that can provide you with the product you want. Our online stores and made-to-order options are available today!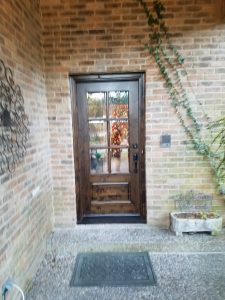 Dealing with large wrought iron by yourself can be really tough if you're not experienced in installing doors. Though you may have the right idea in mind, it's usually best to leave this in the hands of the experts. At our company, not only do we sell doors, but we support our customers after the purchase. If you're considering buying a forged iron entry door from us, keep in mind that our crew can install it as well.
Are you worried about the safety of your family and you want to make sure you all are protected by your doors? It is important to make sure that your entryway is not only appealing to the eye but also protective of your loved ones. If you want the best of both worlds, the Southern Front can provide you with a customized setup that makes sense. From forged iron to Therma fiberglass, we have numerous customizations and pre-finished options. These all offer both style and security.
Handcrafted Iron Door Installation for Houston Customers
If you're in the market for a wrought iron doorway, we can provide you with a high-quality product. At Southern Front, we offer handcrafted forged iron door options that are made to order. We have a wide array of iron selections on our online store, but if you don't see what you're looking for, don't worry. After consulting with one of our experts, we'll work with you to create the perfect heavy-duty door for your home.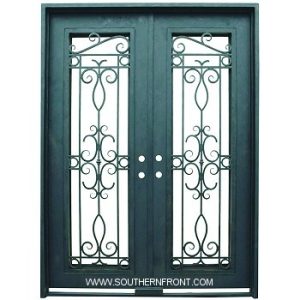 Fiberglass entry doors are another part of our business. If your residence is missing a lightweight addition to your entryway that can keep nature and extreme weather out, this is it. These long-lasting and insulated, but they can be easily customized! If you'd like a wood grain finish or a stained glass piece in the center, this can be incorporated. Once we have the specifications of your home and sense of style, we'll work hard to create something special.
Depending on the exterior of your home, a wooden door could be a great fit for your house. We have a wide variety of our Country Rustic Doors available now on our website. These offer a great throwback that many local Texans love to incorporate into their personal residences. If you'd like to upgrade your main entryway and make it reflect the rest of your home, Southern Front can help.
Southern Front Offers a Versatile Lineup of Doors
Trying to weigh the pros and cons of each type of entry door? There are many things to consider when considering a purchase like this. Wood is a very pleasing look, but it will require maintenance and refinishing to keep its integrity. While fiberglass is an option that doesn't require finishings and sealings after purchase, it's not as thick. This means that sharp or blunt objects could affect it more than its wooden counterpart. No door is perfect, but our consultants can help you pick something that meets your needs.
In addition to doors, did you know that we also have a limited supply of stained and decorative glass in our inventory? Perhaps you're looking to create an art piece and you haven't had much luck at your local stores. If so, give us a call. Because we create custom glass and iron doors, we have many different types and textures of glasses.
Our online store is full of numerous options for your fiberglass, iron, and wooden door needs. If you're only considering the top manufacturers, this is the place for you. With brands like GlassDoor Craft Company and MAI Company being staples of our inventory, you'll get the best available. We pride ourselves on making sure you have a quality door regardless of the type or style you choose for your residence.
Though we strive to provide nothing but premium products, we do not attach a premium price tag. We have competitive pricing that is sure to beat out the competition. We commit our services to provide Houston, Texas residents with affordable prices and incredible doors. Your investment will be well worth it with our experts and installers behind you.
Contact Us Today!
Our Houston Texas Front Entry Door services are made up of some of the most reputable and respected products and experts in the business. Ready to find a group of tried and true professionals to handle your next front door installation? Call Southern Front today to speak to a consultant to figure out what's best for your entryway. We can find a solution that fits your doorway and personal style perfectly.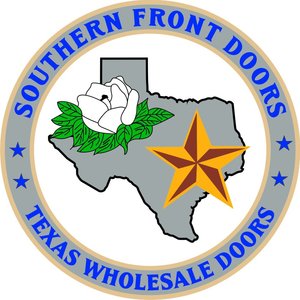 11234 Jones Road West, Suite B, Houston Texas 77065
Did You Know?
We live amongst over 40 colleges, universities, and institutions – offering higher education options to suit all interests.
Houston is home to the Texas Medical Center. This is the largest medicine-based center in the world. Its estimated local economic impact and worth is well over ten billion dollars. It employs over 52,000 people who work in its facilities. This entire unit takes up 21 million square feet altogether. Nearly five million patients receive care here each year.
In 2006, the Houston-Sugar Land-Baytown Gross Area Product was $325.5 billion. During that year, this figure was higher than in many countries' Gross Domestic Product. This includes but is not limited to Poland, Saudi Arabia, and Austria.
Learn more at houstontx.gov.