Houston Wrought Iron Door
Have you been on the lookout for a Houston wrought iron door company that has what your entryway needs? Finding the entryway door for your local residence can be tough if you're looking for the perfect fit for your home. Maybe you've been in the market for doors for a while and you still have yet to find what's right. If so, Southern Front has an assortment of local Houston wrought iron door options!
Southern Front is a local company that specializes in providing Houstonians with the best iron doors in town. You might be trying to add wrought to your entryway and you're looking for a reliable business to help you find what's right for your house. This can be a heavyweight material, and you probably want to get what you want the first time. If so, our professionals can steer you in the perfect direction.
There are many things you might be concerned with when looking for the right door for you and your family. Can this keep us warm in the winter and cool in the summer? Will I have to replace this in only a matter of years? Am I buying a door that's going to keep our entryway safe for the long haul? These are only a few of the many questions you might have. In addition to this, you probably also want to pick a nice product that will mesh well with your house. Many Houstonians are looking for a solution that will provide durability and style. If this sounds like you, a door made out of wrought iron could be the answer.
Durable Doors That Last
Wrought iron is used for fences, gates, and of course, residential doors. This is a very strong material that is welded with your safety in mind. You won't have to worry about potential intruders being able to "kick in" this type of entry door. Unlike wood, fiberglass, or plain iron, this is virtually indestructible to most thieves and robbers. Southern Front cares about keeping our customers and clients safe, and this material is praised by most experts. If you're looking for a durable and consistent deterrent for your entryway, this is a great option.
Having doors made of wrought iron can do wonders for your home. Unlike plain iron, this material is mixed with steel to ensure maximum durability. These types of doors are extremely long-lasting. With cheaper, flimsier materials, this type of consistency is not guaranteed. No Texan wants to waste money on maintaining its doors. You won't find yourself having to spend a lot of money on yearly reseals or refinishes if you go with the wrought iron option. Your entryway will withstand the tests of weather and nature for a very long time. There are many wrought iron doors and fences that have lasted over 60 years.
Additional Insight and Options
In addition to having a long lifespan and being low maintenance, wrought iron doors can also look very elegant. This material has been one of the most popular options for fences, gates, and other projects for centuries. Welders and professionals can mold and meld this material into a multitude of designs for your doorway. If you're trying to improve the look of your residential entryway, this is potentially the perfect fit for you. We have a wide selection of these types of designs and patterns for you to choose from. Call us today to consult with a rep; we're confident we can find the right one for you.
We Will Provide You With a Long-Lasting Door
Sometimes,  the upfront price of some of the Houston wrought iron door options out there can surprise potential customers. While this might be surprising at first, keep in mind that you're investing in an entryway that will last. You may find cheaper options made from different materials, but you could find yourself replacing this sooner than you thought. Front doors that contain wrought iron are incredibly durable. Experts universally praise this type of material as one of the most secure doorways money can buy.
Wooden doors may look nice depending on the exterior of your home, but they can wither and rot over time. And while plain iron might be another option, it lacks steel. This is a key component of its wrought counterpart and a big reason why it's so durable and dependable. There are many options to pick from when it comes to purchasing and installing a front door in Houston. However, when it comes to withstanding the test of time, this one stands out from the crowd.
In a city like Houston, it's important that your home can withstand extreme temperatures. If you're looking for a front door that won't buckle under the pressure of extreme heat or cold, it's here. Whether it's a sweltering day in August or a frigid December, you can count on wrought iron to stay strong. Other materials might become discolored or even flimsier when exposed to high and low temperatures. These are problems you won't have to worry about with wrought iron in your house.
Contact Us!
Call Southern Front when you're ready to have these heavy-duty Houston wrought iron doors installed in your home. Not sure if a wrought iron door is right for you? If you're uneasy about this potential installation, you're not alone. Furthermore, you can always count on our expert consultants to answer any questions or concerns you have about your installation. Our representatives are happy to help!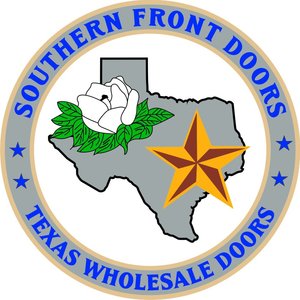 11234 Jones Road West, Suite B, Houston Texas 77065
About the city of Houston, Texas:
Houston's Consolidated Metropolitan Statistical Area (CMSA) consists of eight counties: Brazoria, Chambers, Fort Bend, Galveston, Harris, Liberty, Montgomery, and Waller.
Houston's CMSA encompasses 8,778 square miles. To put this in context, this area is larger than the entire state of New Jersey.
People speak over 90 languages throughout the city of Houston.
For more information on our city, visit houstontx.gov.