Wrought Iron Front Door
Sales of Wrought Iron Front Door have been climbing in recent years. The durability, aesthetics, and value are unrivaled and serves as a great choice of door depending on your unique needs. The right wrought iron door can be hard to find. But to find it, you should take into consideration if you're looking more for aesthetics, function, or both. Is the door being considered meant to make your house look better or more secure?  Once this question is answered, we can find the perfect door for you.  Wrought iron doors are secure yet beautiful, the best of both worlds.  Depending on your objective, you may be leaning towards durable, or you may be leaning towards aesthetic, or both.  Depending on your goals, we can help you find the best door for your specific application.
Durability
If you're looking for a durable door, then a Wrought Iron Front Door may be the right door for you.  A wrought iron door can last for decades.  The door can survive weather and abuse.  Your door will be made from high-grade steel and measured by gauge (thickness).  The majority of steel doors are made with very thin steel that is stamped, but steel doors that are forged as a single piece of milled steel are much stronger.  Treatments such as galvanization can also impact if the door is rust-proof. 
In summary, the most durable wrought iron doors may include treatments and may be made out of forged (not stamped) steel.  Durable doors are good for increasing security.  If your goal is to make your house more secure, then durable wrought iron doors are one of the best door types you can get.  In addition, a durable door will require significantly less maintenance, which could otherwise be costly.  As we know, home repairs can be costly, so it's nice to choose a solution that's going to last a long time.  So while wrought iron doors can seem expensive at first, they can save money over time.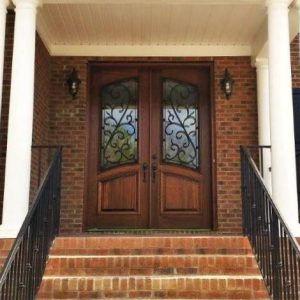 Aesthetics
An aesthetic Wrought Iron Front Door can be beautiful, prestigious, and unique.  The most common reason people choose a door is that they love it.  The design is an important feature, as there can be a wide variety of door styles.  If aesthetics are the primary desired feature, then consider different colors, textures, shapes, and sizes.  The wide variety of features is endless.  The glass paneling that a wrought iron door may have (depending on design), can also be a wonderful way to let light into a room.  Light has a way of adding sophistication and beauty to homes, and the transmission of light can be vital for aesthetic applications.  An art nouveau wrought iron door can bring great resale value to a home because buyers are usually focused on look over function (not to say function doesn't matter). 
Overall
To find the right Wrought Iron Front Door for you, you may consider a door that has a balance of durability and aesthetics.  Most homeowners will want a door that's very durable and very aesthetic at the same time.  Within the area of balance (between durability and aesthetics) there are many great options, and we look forward to helping you find your dream door.  We understand this is a difficult decision, but can help you every step of the way.  There are so many door designs and features that it can make one's head spin, so to make the process easier one of our experts at SouthernFront Doors, can guide you through the decision making process.
Best Wrought Iron Front Door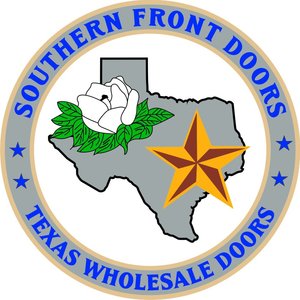 I'm sure you now have a full understanding of the many benefits of wrought iron doors. Other than their visual appeal. At SouthernFront Doors Houston, we provide the best Wrought Iron Front Door that you can find in Houston. We have over 100 different styles that you can select from. Or we can custom build to fit your exact needs. So, stop waiting to install new doors and give us a call today at 281-890-5860 to schedule your appointment today. Because there are few Wrought Iron Front Door companies in Houston that match our level of attention to detail and dedication to customer service.