The Premier Door Company
If you're looking for the company that can deliver the type of door you want, look no further than Southern Front Door. We provide a multitude of different doors to choose from, along with different styles. Each entry has its feature that we can install for you. Our wooden doors have Knotty Alder and other styles to choose from. Plus, we can get it custom-built for you. You can count our doors being top quality with heavy raised molding and thick laminated skins. Jams are also included and stain-grade. Moreover, you can choose over twenty-four different colors with three coats of satin finish.

Our iron doors have aesthetically pleasing designs with over one hundred different styles to choose from. Like with the wood option, we can custom build it to your preferences. Additionally, iron is an excellent insulator. Whether you the outside is hot or cold, you can keep the inside temperature of your house relatively the same. We can assist you with the 14-gauge iron, and heavy-duty barrel hinges that need to be installed into your entryway. It's the least we can do after choosing our business for your new door needs.
The Best Door Provider in The Houston Area
We want you to have the best of our services. Let us help you get your new door for the holidays. It'll be excellent to show off to your family members and guests during the season. Also, you'll have a new look to the exterior of your house to start your new year. Our fiberglass option, for instance, has the best of all worlds. It's as if getting the benefits of wood and iron all in one package. Fiberglass is a beautifully crafted design of our doors. Not to mention, it can replicate the look of wood grain while being extremely versatile.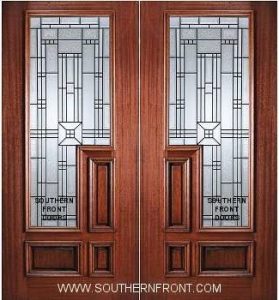 As you can see, Southern Front Door does everything in its power to help you get the ideal door you want for your entryway. We'll ship your door and install it for you. Therefore, you know our company has got you covered when making your purchase. You can reach us at (281) 890-5860 for more information.
We look forward to helping you install your new entryway.