The Pros and Cons of a Fiberglass Doors
The Pros and Cons of a Fiberglass Doors
Many people adore the elegance of a fiberglass door but do not know much about them. Once they realize The Pros and Cons of a Fiberglass Doors, they tend to make a more sound decision of whether this material is right for themselves and their home. At Southern Front Doors, we are here to advise you on the different factors of each of our doors so that you can make the best choice overall.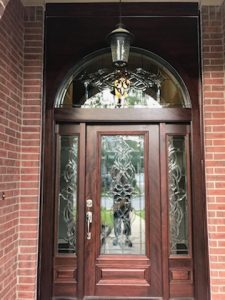 The Pros
Everybody loves the good news first. So, here is a list of the benefits of a fiberglass door:
This type of entry is very versatile. For instance, the finish and color can be easily customized to your preference.
Fiberglass is sturdy. This door can hold up against dents, scratches, and rust better than most materials; In addition to their durability, this material requires minimum maintenance.
Even though the upfront cost is higher than other materials, the fiberglass offsets the price with its benefits. A fiberglass door can assist in lowering the cost of energy for your household.
The Cons
As with everything, pros are often accompanied by cons.  Here is a list of factors you should consider before investing in a fiberglass door:
This material is pricey. Compared to a wood or steel door, a fiberglass door can come with an unfavorable price tag. However, Southern Front Doors and its affiliates can offer different options of financing your preferred door.
Sizing may be a problem. Although it is more versatile than other doors, a fiberglass door is near impossible to trim down to fit a smaller than standard size frame.
This door is not a DIY door. Many wood doors are easy to install, and most people complete the installation themselves. However, this is not a recommended idea for a fiberglass door. Fiberglass doors come as a full unit and should be installed by a professional installer.
The Company
Southern Front Doors is a family owned business. The owners, Jesse and Liz Salinas, purchased the business from Sam and Susan Fortenberry in 2014. Through our 28 years of experience, we continue to deliver a durable and quality product at an affordable rate. For instance, we are confident that our company can meet or beat our competitors' prices. We offer standard and custom size products in wood, iron, fiberglass, and steel material.
Additionally, we stain our wood doors the traditional way: with an oil-based finish. For our local customers, we offer installation and our Crate& Freight Program. This program provides curbside delivery to the location of your choice. All in all, we are your one stop shop for your custom door needs.
Contact Us Today
Southern Front Doors is one of a small group of companies in the nation who carry an extensive range of fiberglass door options. For more information about our company and our inventory, you can contact us at 281.890. 5860 or visit our website here.