The Gateway to a Secured Home
The Gateway to a Secured Home
Many people consider a sturdy door as The Gateway to a Secured Home, and we feel the same. Over twenty years, Southern Front Doors used their expertise to give their customers a beautiful door that also provides an additional amount of safety to the family.
The Benefits of a Wrought Iron Door
The Wrought Iron Door is one of the best doors to acquire for security. Here are some of the benefits of a Wrought Iron Door:

Seeing is Believing. Burglars recognize the high level of difficulty needed to breach a sturdy wrought iron door. Its remarkable stability sends the message to outsiders that this particular family is NOT an easy target and they take their safety seriously.
Stability is Key. Speaking of durability, wrought iron doors, in fact, harder to break into than wooden or glass doors. Families can enjoy their peace of mind with the continuous security of their 100% iron door.
Minimum Maintenance Needed. It is not required for owners to purchase special soaps or polishes to preserve the appearance of the door. On the contrary, the use of a pure oil soap will keep your door shining like it's brand new.
Cut From a Different Type of Cloth. Iron doors are the safest because of its material: Iron. They are sturdy, durable, and aren't easily damaged. Our doors are made with 14-gauge iron, 5/8 inch grill, and heavy-duty barrel hinges, prehung, e-coated, and powder coated. In addition to their sturdiness, iron doors are also fire resistant. As a result, iron doors are commonly used in government buildings and castles.
All in all, Wrought Iron Doors is the best of both worlds between safety and elegance.
The Company
Southern Front Doors is a family owned business. The owners, Jesse and Liz Salinas, purchased the business from Sam and Susan Fortenberry in 2014. Through our 28 years of experience, we continue to deliver a durable and quality product at an affordable rate. For instance, we are confident that our company can meet or beat our competitors' prices. We offer standard and custom size products in wood, iron, fiberglass, and steel material.
Additionally, we stain our wood doors the traditional way: with an oil-based finish. For our local customers, we offer installation and our Crate& Freight Program. This program provides curbside delivery to the location of your choice. All in all, we are your one stop shop for your custom door needs.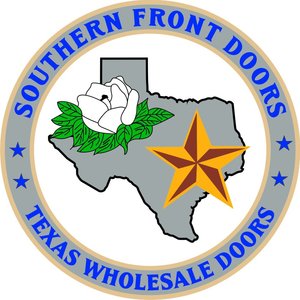 Contact Us Today
Our customers can choose from over one hundred styles for their custom iron doors. In addition to its safety features, they add a great sense of elegance to the home. For more information, contact us at 281.890.5860 or visit our website here.