Wrought iron and forged iron doors make an extraordinary impression. It makes your home stand out, bringing a different feel as compared to conventional wood or fiber glass doors. Iron doors are a popular option for Southern Front Door customers throughout Houston. We're pleased to offer an incredible selection of prestigious iron doors you can choose from.
You can select from over 100 different styles that are available.
We can custom build your door to your exact tastes and desires.
Three different lines are available with different price levels, enhancing your power of choice.
Doors are top quality, with 14-gauge iron, 5/8-inch grills, and heavy-duty barrel hinges, pre-hung, e-coated, and powder coated.
We have an impressive range of door heights available, including 6'8″, 8'0″, and 9'0″. You can select either 36″ or 42″ widths.
Six stunning glass options are available, including Granite, Costwold (Rain), Reeds, Flemish, Glue Chip, and Clear.
Glass Panels open on most models for cleaning; they can also open for speaking to unknown visitors or to simply let fresh air in.
Installation & Shipping
Installation of wrought iron and forged iron doors is available for residences in the Greater Houston area.
Crate & Freight Program – including crating, shipping, and curb side delivery, available throughout the United States (except for AK/HI).
Why an iron door is perfect for your home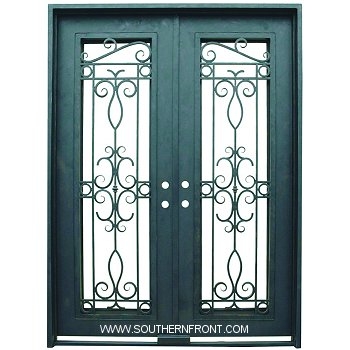 Appearance: Iron doors have an aura of timeless artistic beauty. The stunning craftmanship of an iron door is unique; in fact, some will say there's nothing out there that's like it. With an iron door, you make it clear that your home is your castle. There is just something about the classic look of an iron door that conveys prestige, class, and worth.
Security: Add a layer of security to your home with an iron door. Iron doors can be effective deterrents against burglars that wish to break into your home and steal the things you work hard to earn. Moreover, iron doors are fire resistant and strong. There's a reason why these types of doors have been used for centuries in government buildings and castles. Unsurprisingly, homeowners of worth are turning to iron doors for peace of mind and protection.
Durability and Strength: Your iron door from Southern Front Doors is made of thick, 14-gauge iron. With our extensive treatment process, we make sure that your iron door maintains its beauty and strength for a long time.
When it comes to iron doors, turn to Southern Front
Customers across Houston and the country call Southern Front Doors daily to take advantage of our wide selection of forged iron doors. Few door companies in the Houston area match our attention to detail and dedication to customer service. Contact us today to take purchase of the wrought iron door you've always dreamed of.