Southern Front Doors offers a variety of products for your particular needs, all beautifully crafted with care. We have wood, iron, fiberglass, all with modern designs and customizable. Our goal is to give your home an extraordinary first impression, allow it to stand out with personality.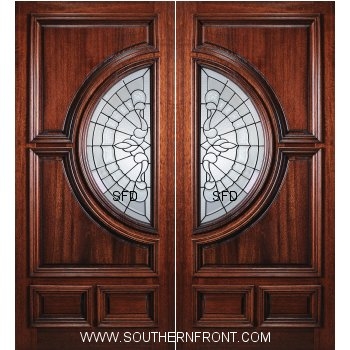 Wooden doors have the benefit of flexibility. We can customize the raised molding and finish on your door. Wood is also a natural insulator, protecting from temperatures and noise.  Our wood doors come in Mahogany, Knotty Alder, and Andean Walnut, durable woods with longevity. We also have windstorm-approved options and use oil-based MinWax® and 24 different colors of three coats of marine grade polyurethane with a satin finish to choose from.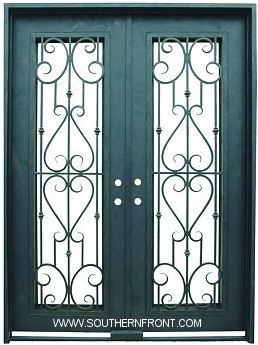 Wrought iron and forged iron doors make an entirely different impression, formidable and prestigious. Iron doors have an art nouveau beauty that carries a sense of timelessness to your home's front. They also bring an extra layer of security to your home, in appearance and strength, deterring burglars, fire-resistant, and reliable. We have 100 styles and 3 lines with different price levels for you to choose from. And from there, you can still have it custom-built. They are 14-gauge iron, ⅝-inch grills, and heavy-duty barrel hinges, pre-hung, e-coated, and powder coated, options of heights of 6' 8'', 8' 0'', 
and 9' 0'' and 36'' and 42'' widths, and six stunning glasses, including Granite, Cotswold (Rain), Reeds, Flemish, Glue Chip, and Clear that can open for speaking and cleaning. 

The major benefit of a fiberglass door is the versatility that no other can match. We can give you the durability, security, and aesthetic
 beauty you desire. We can paint these doors any color and customize the finish, height, and overall appearance however you wish. They replicate the look of wood grain. Fiberglass is also dent, scratch, and rust-resistant and requires minimal maintenance as a consequence. While fiberglass doors have a higher upfront cost, the insulating properties save on lower energy costs. Our fiberglass doors are available with glass panel, wrought iron, grill-between glass, solid panel, simulated divided lite, privacy, clear, and contemporary styles, 6'8'' or 8'0'' heights, and 30'', 32'', 36'', or 42'' widths.
Installation and Shipping
Installation of all our doors available for residences in the Greater Houston area.

Crate & Freight Program- including crating, shipping, and curbside delivery, available throughout the United States (except for AK/HI).
Southern Front Door Installation Policy, Procedures and Warranty
Southern Front, Inc.
Door Installation Policy, Procedures and Warranty
What to expect with your new door installation:
Southern Front, Inc. will strive to do our best with your door installation.  Our experienced installer will take the necessary steps to ensure your new door unit is secure, square, level and plumb.  Keep in mind that we did not build your house and we are not responsible if your current doorway is not level or plumb.  Sometimes it is necessary to adjust and adapt.  
In some instances if the weather is too cold and or too rainy or stormy, we may have to reschedule your installation to a later date. Please keep in mind weather delays such as heavy rain or storms are delays, we cannot foresee. It is not good practice to attempt to install exterior doors when it is raining. Mainly for safety purposes, but also because we do not want to install an exterior door in a damp environment. Adhesives and caulking do not dry properly, and wood products absorb water and make the installation not as accurate as we would like it to be. Please note that rescheduling your installation cannot necessarily be the very next day as we have an ongoing schedule. If we must reschedule your installation, we will work it in as

quickly

 as possible on the next available day per our schedule. Our installers typically do not work on Saturdays as they have the weekends off to spend with their families. We appreciate your cooperation as we would like nothing else but to install your door as quickly as possible.
Door slab installation in customers existing frame:
How old is your house and or door frame?  Has there been any settling?  Is the frame square, level and plumb?  If you choose to have us install a slab door in your existing frame, we will do our best to make sure your new door fits your existing frame to the best of our ability.  Our doors are square and straight.  Your existing door frame may not be.  Slab door installations do not include removing, adjusting or re-framing your existing frame.  If this becomes necessary, there will be an additional charge.    
Construction debris and dust:
Removal of an existing door and installation of a new door creates dust and debris.  Our installer will put down plastic or a drop cloth around the area where he is working and remove all debris upon his departure.  It is the customers' responsibility to make sure the installer has a clean, safe, uncluttered workplace.  If you feel your floor requires extra protection that plastic or a drop cloth does not provide, it is your responsibility to supply and apply this layer of protection.  
Handle Sets: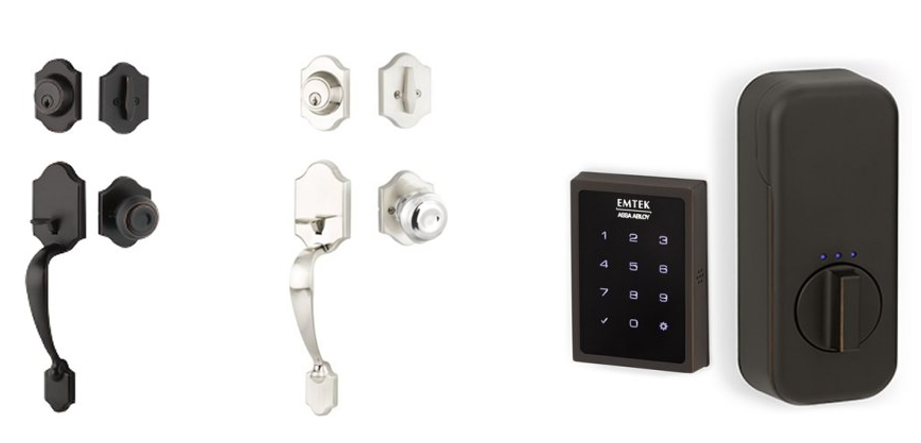 Southern Front, Inc. has a large selection of handle sets to choose from.  When you purchase a door installation and handle set from us, we will install the handle set at the time of the door installation and ensure everything is in good working order.
Will Southern Front, Inc. install my old handle set or a handle set I purchased somewhere other than Southern Front, Inc.? Yes.  As a courtesy, we will install your handle set at the time of the door installation.  If there is a problem with a customer supplied handle set, we are not liable for any installation issues that may arise.  If additional trips are required, you will be responsible for payment of additional service calls.  Mortise handle sets will not be installed as a courtesy.  There is a charge for this service.  Be sure to let your Southern Front, Inc. sales person know if you have a mortise handle set.
My handle set worked in my old door, now it doesn't work in my new door.  Once again, we are installing your lockset as a courtesy.  We will do our best to make sure your handle set works, but if it doesn't, it's up to you to correct the issue.          
Plaster, sheetrock, paint and masonry:
Southern Front, Inc. does not plaster, sheetrock, paint or perform masonry work.  Some installations may require additional work.  This work is the responsibility of the customer.  Wood becomes dry and brittle with age.  Should our installer need to remove any existing trim to install the door unit, Southern Front, Inc., or their installer is not liable for any breakage or splitting.  
Alarm contacts and or door bell:
As a courtesy our installer will do his best to make sure your existing alarm contacts and or door bell are in working order.  He is a door installer, not an electrician.  If a situation arises that he can not easily remedy while he is there, it is your responsibility to have a qualified person with the specific expertise to remedy the problem at your expense.    
Installation labor warranty:
Southern Front, Inc. will warrant from the day of installation, for a period of 90 days, any labor related issue regarding your door installation.  Any adjustments needed after the 90 day period, will relate in a service charge.