Southern Front Doors offers a variety of products for your particular needs, all beautifully crafted with care. We have wood, iron, fiberglass, all with modern designs and customizable. Our goal is to give your home an extraordinary first impression, allow it to stand out with personality.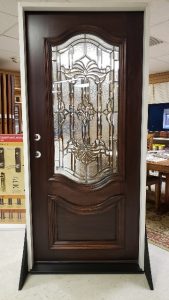 Wooden doors have the benefit of flexibility. We can customize the raised molding and finish on your door. Wood is also a natural insulator, protecting from temperatures and noise.  Our wood doors come in Mahogany, Knotty Alder, and Andean Walnut, durable woods with longevity. We also have windstorm-approved options and use oil-based Miniwax® and 24 different colors of three coats of marine grade polyurethane with a satin finish to choose from.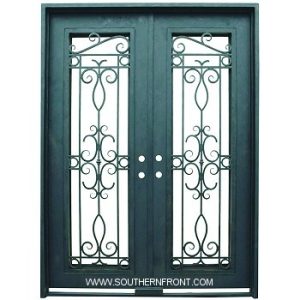 Wrought iron and forged iron doors make an entirely different impression, formidable and prestigious. Iron doors have an art nouveau beauty that carries a sense of timelessness to your home's front. They also bring an extra layer of security to your home, in appearance and strength, deterring burglars, fire-resistant, and reliable. We have 100 styles and 3 lines with different price levels for you to choose from. And from there, you can still have it custom-built. They are 14-gauge iron, ⅝-inch grills, and heavy-duty barrel hinges, pre-hung, e-coated, and powder coated, options of heights of 6' 8'', 8' 0'', and 9' 0'' and 36'' and 42'' widths, and six stunning glasses, including Granite, Costworld (Rain), Reeds, Flemish, Glue Chip, and Clear that can open for speaking and cleaning. 
The major benefit of a fiberglass door is the versatility that no other can match. We can give you the durability, security, and aesthetic beauty you desire. We can paint these doors any color and customize the finish, height, and overall appearance however you wish. They replicate the look of wood grain. Fiberglass is also dent, scratch, and rust-resistant and requires minimal maintenance as a consequence. While fiberglass doors have a higher upfront cost, the insulating properties save on lower energy costs. Our fiberglass doors are available with glass panel, wrought iron, grill-between glass, solid panel, simulated divided lite, privacy, clear, and contemporary styles, 6'8'' or 8'0'' heights, and 30'', 32'', 36'', or 42'' widths.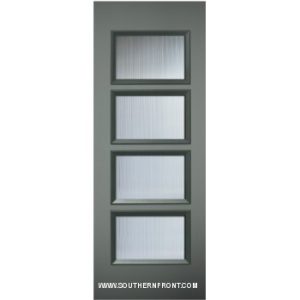 The appeal of a steel door can be found in its modern aesthetic that can call back to eras from art deco to mid-century modern. Steel doors have high-cost effectiveness and energy efficiency as well due to their ability to keep out the heat and cold. Their durability also ensures that your money will not go to waste keep it easy to maintain with 18-gauge dent resistance and built-in composite that prevents warping and rotting. Perhaps even the greater appeal for the growing trend of steel doors among homeowners is the added security with kick-proof steel. We offer them available in satin finishes, black, French grey, or oil-rubbed bronze, or antique finishes, pale bronze, pewter grey, or copper bronze, and 6'8'' or 8'0'' heights.
Installation and Shipping
Installation of all our doors available for residences in the Greater Houston area.

Crate & Freight Program- including crating, shipping, and curbside delivery, available throughout the United States (except for AK/HI).