Beautifully crafted hardwood doors provide a presence of class and elegance that is without parallel. Southern Front Doors offers customers a wide range of residential hardwood front doors in the Houston area. Make a lasting impression for your guests with a welcoming, inviting wood door which we can craft to your taste.
Choose from thousands of different styles available in Mahogany, Knotty Alder, and Andean Walnut
You can choose to have your door custom-built!
Doors are top quality, with wide stiles and rails, heavy raised moulding, and thick laminated skins. Jambs are also matching and stain-grade.
Doors are finished in oil-based Miniwax®. Choose from 24 different colors with three coats of marine grade polyurethane with a satin finish.
Windstorm-approved options available.
Installation and Shipping
Installation available for residences in the Greater Houston area.
Crate & Freight Program – including crating, shipping, and curb side delivery, available throughout the United States (except for AK/HI).
Why a wood door is right for your home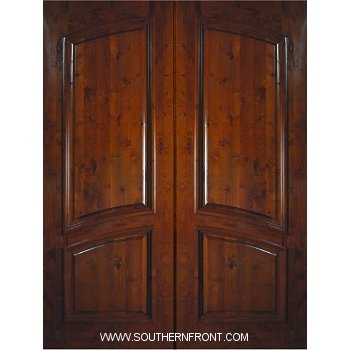 Insulation: Wood is a natural insulator of heat; thus, temperature cannot destroy it. As such, rooms with wood doors are able to maintain the temperature of a room. Wood doors are also great noise insulators.
Flexibility: Wood doors are easy to customize into the look that you wish. Your custom door can be crafted into a preferred design, polished, and painted into any of our 24 available colors. With thousands of options available, we have a wood door that can fit any home.
Longevity: Mahogany, Knotty Alder, and Andean Walnut wood is durable, allowing your door to last for a long time.
When it comes to wood doors, contact Southern Front Door
Houstonians have been turning to Southern Front for wood doors since 2000. Our available wooden door options, attention to detail, expert door installation, and dedication to quality is without parallel in the Houston area. We offer great prices, an industry-leading warranty, and a customer-focused process that makes purchasing a brand new door simple and easy.