Are you looking for Mahogany Exterior Doors The Woodlands TX? Southern Front Doors can provide you with this lovely addition to your home. Do you need a replacement door? That or you're working on a home improvement project or perhaps just interested in quality; mahogany is a great medium. But why, mahogany? What separates this wood from other woods, and why should you have your door made of it? Furthermore, why should you choose Southern Front Doors? Read further to find out how valuable and rare this material is.
What Is Mahogany?
Mahogany is a straight-grained, reddish-brown timber that is indigenous to the Americas. There are three different species of Mahogany, which are called Honduran, West Indian, and Swietenia humilius. There are some other variants of mahogany heralding from places such as Africa, New Zealand, and China. In reality, there are many variants worldwide, but only mahogany of the Swietenia genus can be considered genuine mahogany.
You may be wondering what all of these Latin words mean. Not to worry, it's not essential to know, merely some fun facts! There are thousands, if not hundreds of thousands, of different species of trees throughout the world. However, only some of them will make a quality door for you.
Mahogany is most known for its red color. It is considered to be very beautiful and extremely durable; also, it is used to make furniture, boats, and house paneling. Surely the people who built ships with mahogany knew what they were doing. Imagine how sturdy it would have to be to withstand the tumultuous waves of the sea. Not only that, but sailors adored their boats and wanted them to look their best. Another widespread use of mahogany is building instruments. You see, mahogany also creates a beautiful sound that is covetable among musicians.
You may be thinking that mahogany is just a tree, but it has been the subject of much interest. From illegal harvesting to the debate over how it got its name, mahogany has become more than just a piece of wood. Rest assured, Southern Front Doors buys from responsible suppliers.
Why Do I Want Mahogany Doors?
As discussed above, mahogany is a coveted material. It's trademark cherry red color makes any home light up with beauty. Then there's it's durability. If you had your doors constructed with mahogany, you would unlikely need any repairs anytime soon. Maybe you have kids or pets, and you worry about your door being scratched or damaged. Perhaps you are wondering if it could withstand a burglar. A break-in is anyone's nightmare. However, with mahogany doors, getting inside your home would be no easy feat.
The lumber is very thick and robust by trademark. It will act as a barricade between your loved ones and the elements. Mahogany also can help your home stay insulated. Wood is a natural insulator of heat. Because of this, rooms with wood doors are better able to maintain the temperature of the room. They will also keep noise on its respective sides of the door. As an added aspect, mahogany is a highly-respected wood. It sells for higher prices due to quality and desire. You could wow your neighbors as well as your home visitors with your new door.
So, Why Southern Front Doors?
Southern Front Doors was started in 1996 by Sam and Susan Fortenberry. Then, in 2014, it was purchased by Jesse and Liz Salinas. Therefore, Southern Front Doors has always been a family-owned door company. This is great for you as a Houston resident. We know that family matters most here.
Southern Front Doors meets or beats competitor pricing on the same products. You can save money with us, and that is always a lovely thing. You may also browse our online inventory to see what we have in stock, from the convenience of your home or office. Click here to see them for yourself.
Are you interested in having a custom door made? We make those too. Southern Front Doors stains their wood doors with an oil-based finish to give it a rich appearance. Of course, wood isn't our only craft. Our glass and ironwork are state-of-the-art.
If you decide against mahogany doors, you have other options available to you like Knotty Alder doors and Andean Walnut doors. Either way, Southern Front Door promises the best quality. All three of these quality woods will last you years and years. If you intend to pass your home down to family, they will be able to enjoy these doors as well.
Still unsure? Let's take a look at Southern Front Door's further options.
Financial:
No-interest financing available for 18 months for qualified buyers.
Rates available below standard retail for qualified buyers.
Quick response times.
Multiple payment options.
Convenient payment arrangements.
Doors:
Doors are top quality, with wide stiles and rails, heavy raised molding, and thick laminated skins. Jambs are also matching and stain-grade.
Doors are finished in oil-based Miniwax®. Choose from 24 different colors with three coats of marine grade polyurethane with a satin finish.
Windstorm-approved options are available.
It can be a wood door, wrought iron door, fiberglass door, or steel door.
Interior doors or exterior doors!
About The Woodlands
The Woodlands is home to Houston's luxury community. There are many extensive shopping centers and resorts for you to visit here. The Woodlands is also fond of hiking and running trails through their beautiful landscape. Many Houston residents work, go to school, and live quietly in the peaceful expanses of the Woodlands. If you like a place with a strong sense of community, this could be the place for you. Take a look into what the community has to provide here.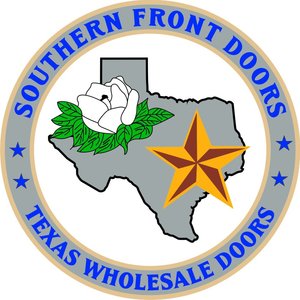 Great! How can I contact Southern Front Doors?
Have you decided in favor of Southern Front Doors for door installation? You can visit them at 11234 Jones Road West, Suite B, Houston, Texas 77065, or call 281-890-5860. If you like to conduct your business online, email info@southernfront.com, or visit their website here. Either way, excellent customer service is waiting for you.
Contact Southern Front Doors today. They are looking forward to seeing you and providing you with the best Mahogany Exterior Doors The Woodlands TX.
Houston, TX Fun Facts
Hosts the world's largest livestock show.
Houston is the 4th most populous city in the United States.
More than 90 languages are spoken in Houston.
For more fun facts on Houston, TX, search here.