How to Increase Your Home Value with Front Doors
How to Increase Your Home Value with Front Doors
Have you been searching for ways you can increase the value of your home? Perhaps you are getting ready to sell your home and you are adding updates. Maybe you are searching for how to increase your home value with front doors. If this sounds like you, in this blog post, we are going to highlight how your home value can increase with updated front doors. Do you currently have a front door that is beginning to look worn and out-of-date? Maybe you have a front door that does not give the appearance you are looking for. Here at Southern Front Doors, we offer a wide array of doors that will increase your home's value. We currently offer wood doors, iron door, steel doors, and fiberglass doors that are all sure to increase your home's value.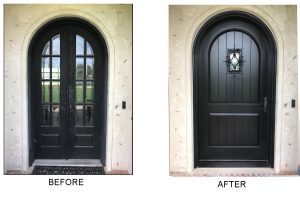 Doors Built to Last
The doors we offer here at Southern Front Doors are hand-crafted and designed to give your house the superb appearance you have been looking for. Having an impressive front door opening will make your residence and neighborhood look nicer and add a lasting impression on home buyers. Which will increase the value of your current home. Did you know that research shows that most homeowners will get a 75% return investment when they have front doors installed? We understand that installing new doors can be a big investment. But it is also a return investment that not many homeowners are not aware of or forget.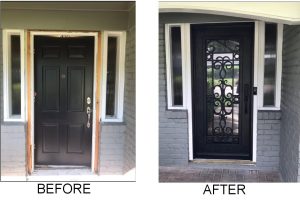 If you want a front door entry that is different and would like to stand out in your vicinity, a new front door entry opening is a great pick. You can be sure your residence will be set apart from others, especially if all of the residences look alike! All of the doors that we have to offer have stunning craftsmanship that is unique than other doors. Which is why many homeowners are drawn to our doors before knowing the other benefits these doors have to offer. Not only will our front entry doors provide the appeal you are looking for. But our doors will also provide improved security and longer-lasting durability. 
Contact SouthernFront Doors Today!
Homeowners all across Houston are looking for the next thing that can take their home from zero to one hundred. And having new front doors installed guarantees you a show-stopping entrance that will make anyone envious. At Southern Front Doors, we have the widest selection of doors. There are few companies in Houston that have our selection. We offer over 100 different styles. Or we can custom build your door to your exact needs. We also have different levels or pricing to make this a reality for your home. Our doors are only top quality with 14-gauge iron, 5/8-inch grills, and heavy-duty barrel hinges. To ensure that your door will last the test of time. We also offer many different glass styles to ensure that the look you are wanting is polished. So, what are you waiting for? Take the next step and schedule your appointment with us today by dialing 281-890-5860.