French Iron Doors
Having French Iron Doors installed in your home can add a level of sophistication that most wood doors cannot. French doors have become increasingly popular with homeowners because they are so grand and beautiful to look at. They also give a great first impression to home buyers when you are selling your home. But, when is the right time to invest in new doors? That is a question many homeowners have because they are not sure when it is time to upgrade.
Because French Iron Doors are an investment that many homeowners are often scared of. Mostly, because they are afraid of the cost, especially when considering resale for their home. The potential time it could take to install the doors is also a concern for many homeowners, so it won't interfere with their daily lives. Homeowners are often unsure as to when they need to get new doors.
In this post, we will investigate when a homeowner should have their old doors replaced. Because replacing your doors is something that requires research and knowledge before you can make the best decision. Therefore, SouthernFront Doors will help you learn if you need new doors. So, that you can make the best decision for your unique situation going forward.
When to Replace Your Doors
There are many signs that can tell us when we need to have new doors installed. To then be able to decide if installing French Iron Doors is the correct choice for your unique situation. Because not everyone has the money to replace their doors just for aesthetic appeal. And some people need to wait until their door is showing signs of needing replacement.
If Your Door is Difficult to Open and Close
If your door is difficult to open and close, then it may be time to replace it. And if the hinges of the door are sinking when you open and close, that's an issue. But if it is sticking into the door jam, your door probably has exposed areas where you can see light.  And seeing light from the inside or outside without the door being open is a problem.  These are signs that your door may need to be replaced. Because these problems will cause you cool air and heat to escape your house. Which will make your energy bill higher.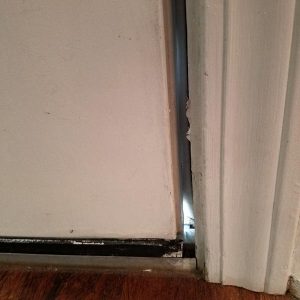 If Your Door Has a Big Amount of Rust and Dings
Dings and rust on a door show that the structural integrity of the door may be compromised.  Most residential doors off the shelf are laminated 24-26 gauge steel on top of a wood frame. Which means that this is not a very structurally sound door. Think about it like this- how many times have you been caring so many things in your hand that you had to kick your door open each time? This continuous kicking on the door will lead to dents and ultimately wear and tear on your door. While also altering the structural integrity of the door to not be as strong. And if the door is also rusted, you are getting excess moisture in your house from the exterior and interior of the frame. Causing more energy to be used in your home and ultimately costing more money.
If Your Front Glass has Moisture Between the Panes of Glass
Just like new windows, a lot of doors with glass packages will have double-paned glass. But, over time with older doors, the seal between those two panes will fail. Leading to moisture, mildew, or mold between the panes of glass. Some homeowners will ignore this, but when you see it in your front door it must be replaced.  Most older doors have a wood core or frame which makes it easier for the mildew or mold to spread. Just like the windows in your home, when you have a door with moisture between the panes of glass, it is time to replace.
If Your Door is Weathered, Warped, or Cracked
Doors can take a beating over their lifetime.  Especially because they are slammed, kicked, and exposed to the ever-changing weather. And if you have an old solid wood door, many of these doors have expanded and contracted. Meaning, that through the many winters and summers that they have developed cracks, and warped and are extremely weathered. When looking to see if your door is weathered, cracked, or warped. Look for light coming into the room from the door.  Many of these doors will have stress fractures in the grains of the door.  These stress fractures expose the outside elements to the inside of your home. Which means once again that you are losing energy and money. And it is time to replace your door with French Iron Doors.
French Iron Doors in Houston
If you have decided that replacing your old doors is an investment you need in your situation. Then you may now be wondering who you should call to learn more about the different options available. Southern Front Doors is here for all your French Iron Doors needs. We carry and install the best, energy-efficient doors. We have over 100 styles and selections you can choose from. Which is more than any other door company in the Houston area. Call our specialist today at 281-890-5860, to schedule your appointment and learn more about the great services we can provide you today.