Special Offers on Mahogany Doors
You may be someone who is looking for mahogany doors. Mahogany is a highly desirable material for many purposes. It is popularly used for furniture, home fixtures, and instruments. It is famous because of its dark, cherry-tinted brown color and its resilience. Since this material is so sturdy and appealing, it is easy to see why many people want to use it for their front doors. At this very moment, Southern Front Doors has several special offers out on beautiful mahogany doors, with discounts up to 34%!
  Why Mahogany Doors?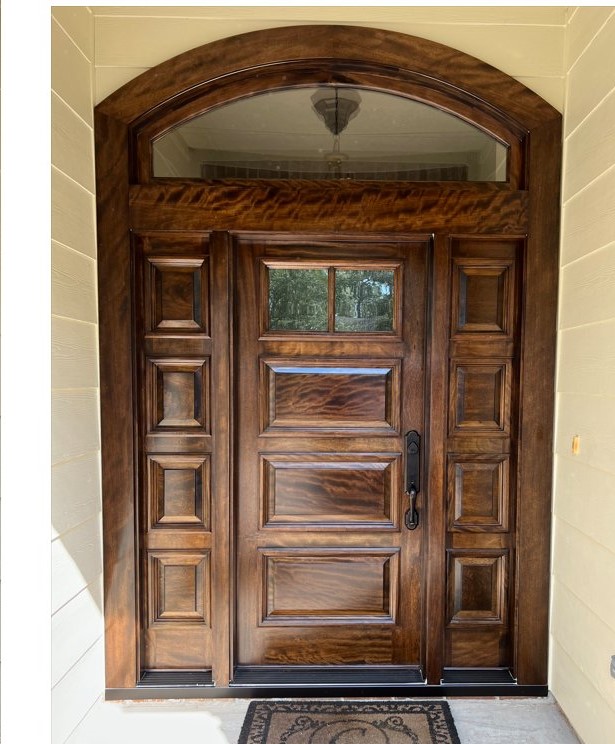 Mahogany is described as being a straight-grained, reddish-brown timber that is native to North and South America. There are many species of mahogany trees and variations to the wood, which makes it very flexible and accessible. This wood is widely desirable for not only its color but its function as well. It is very thick and characteristically hard to damage. When used for a front door, which typically is rattled, kicked, and scratched, it can ensure the front of your home stays beautiful.
Furthermore, we also offer Knotty Alder. This wood material is highly covetable and make for amazing front doors. Because of this, we offer it for sale in our inventory.
Our Special Offers Are Abound
Within our inventory website, we have a page dedicated to our current discounts and special offers. By clicking on this link, you will be brought to it where you can scroll and see all of our doors for sale. Nearly every door that has been discounted is a mahogany door with beautiful glass fixtures. Some of them have beautiful floral designs or the Texas Lone Star! Surely it is obvious how beautiful and unique each of these doors is. Because of this, you could be the talk of your neighborhood.
Southern Front Creates Custom Doors
You are not limited to our inventory selection. While it is very extensive, some people have an exact look in mind. For example, if you would like a door for your family home decorated with ironwork or glass paneling, we can do that for you. Imagine having a family crest or monogram engraved into your door! It would be completely irreplaceable.
We stain all of our own doors with an oil-based finish that will give it an unmistakable gleam. For our Houston residents, we offer professional door installation to put the cherry on top. That way, not only do you have a beautiful door you can be proud of, but it functions properly to prevent water and insects from invading your home.
Contact Southern Front Doors
Once you are ready to order a new door, you can visit our online inventory here. You can also contact us using our form here, or our phone number (281) 890-5860. Either one will put you in direct contact with one of our representatives. We hope that you come to us for all of your Houston dooring needs so that you can have the very best in your home!