Benefits of Steel Doors
Benefits of Steel Doors
Are you a homeowner that is looking to elevate your front door? Perhaps you have been searching for different doors and you are looking for the added benefit of steel doors. Steel doors are often associated with commercial buildings and not residential properties. But, they are becoming more and more popular with homeowners. Brought to you by Southern Front Doors, in this blog post, we are going to highlight the many benefits of steel doors added to your residential property.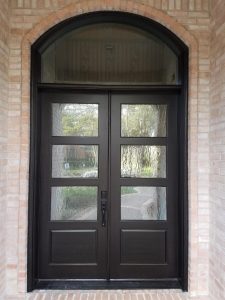 Why Install Steel Doors
Are you wondering why steel doors are becoming more popular with homeowners? Steel doors are becoming increasingly popular with homeowners for many reasons. Steel doors provide security, energy efficient, stronger durability, and a sleek appearance. Did you know that steel doors have a higher level of security than other doors on the market because they are almost impossible to penetrate? This is due to reinforced steel leaves, advanced locks, and additional protective mechanisms that secure the door. Having a steel door will protect you, your family, and your home assets against thieves. Research shows that 65% of break-ins are residential, which is why so many homeowners are switching to steel doors to provide more safety and security.
Steels Doors
Steel frames are designed to prevent summer heat and winter cold into the home. The reason a steel door is able to prevent summer heat and winter cold coming into your home is that the steel skins are very thin and the indoor and outdoor skins do not actually touch each other. There is an insulating thermal break between them. And the core of the door is made of foam insulation with a high R-value. The higher the R-value, the greater the insulating. R-value is a measure of how well an object resists conductive heat flow. So, having a higher R-value impacts how much money you could save on your energy bills.
Are you someone that is looking to install steel doors for the appearance factors? Steel doors were once known for having an appearance that was not pleasant to the eye. However, throughout the time the design for steel doors have evolved and have become quite beautiful and unique. Here at Southern Front Doors, you are able to select from a wide range of steel doors manufactured by GlassCraft or Buffalo Forge. You will then be able to select the finished that best suite your home. Finishes include-
Satin finishes in black, French gray, or oil-rubbed bronze.

Antique finishes in pale bronze, pewter gray, or copper bronze
Contact SouthernFront Door Today!
As you can see, there are many benefits of having steel doors for your residential property. You will have more security, lower energy bills, stronger durability, and an appearance that is both beautiful and unique. With all of those benefits, you can see why steel doors are becoming increasingly popular with homeowners. Give us a call today to learn how we can transform your residential property by dialing 281-890-5860. Or visit our website https://www.southernfront.com/ to learn more information on the doors we have to offer today!