Check Out Our Hot Summer Special!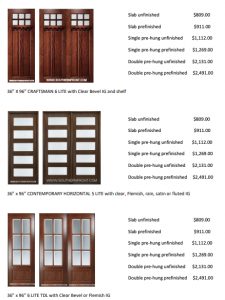 With the year winding down, there are plenty of things on your todo list that still needs to be crossed off. If one of those options were a new door for your home, now is a perfect time. Our summer special is now available, and it will provide you with all of the best options at a reduced price. We want to prepare residents for the coming seasons with doors that will keep them safe and secure. For a limited time only we are happy to offer a selection of excellent doors that covers such a broad range of styles and preferences. We believe their look, feel, and function will appease any homeowner. These doors are not just cosmetic adjustments, they will be long term pieces that give your home more value in all aspects.
What Is Available?
Our selection is separated into multiple services and product lines, we have curated the different options to fit a particular set of requirements. Our first special is going to cover 3 types of doors. Each one has the option to be ordered with or without the option to install. Instead of paying a much higher premium to get the door prefinished and pre-hung, you can find the best value at Southern Front.
The options for doors that we will have available are as follows:
36″ x 96″ CRAFTSMAN 6 LITE with Clear Bevel IG and Shelf 
36″ x 96″ CONTEMPORARY HORIZONTAL 5 LITE with clear, flemish, satin, rain, or fluted IG 
36″ x 96″ 6 LITE TDL with Clear Bevel or Flemish IG
What Is An IG?
This stands for the insulated glazing we put on the glass of your door. Depending on the door, we can provide 1 or as many as 5 different options for you to choose from. The benefits range from better insulation to a reduced electricity bill due to the increased energy efficiency it offers. This treatment will ensure that the glass in your door is not only aesthetically pleasing, but it serves an effective purpose.
How Do The Prices Look?
For each option, there is a fixed rate for the installation services that we'll be providing. The rate is a special reduced price that will be available for a limited time only so hurry while supplies last! Southern Front will prepare the doors for your home for a range of possible styles. By this, we mean you can either order the single door with no additional installation services or go all the way and get a double door set which we can also have pre-hung and prefinished for you. Our prices will be superb and
Slab unfinished $809.00
Slab prefinished $911.00
Single pre-hung unfinished $1,112.00
Single pre-hung prefinished $1,269.00
Double pre-hung unfinished $2,131.00
Double pre-hung prefinished $2,491.00
If you are interested in learning more about this summer special, give us a call or visit our page about new specials! You can reach one of our representatives at (281) 890-5860 and they will be happy to assist you. Thank you for choosing Southern Front, may this be the door that opens up a new world for you!