Are you in the market for Residential Doors For Sale The Woodlands TX? I'm glad we caught you. Southern Front Doors in Houston always have special offers available. If you are in need of a door installation or a replacement door, we've got you covered. Southern Front Doors will meet or beat the prices of their competitors, so you know you can get the best deal with us. In this article, we will discuss Southern Front Door's sales specials, the quality of their service and products, and why you should choose them for your door services. There will also be information about the Woodlands area and how to get into contact with Southern Front Doors.
A Little About Southern Front Doors
Southern Front Doors was started in 1996 by Sam and Susan Fortenberry. Then, in 2014, it was purchased by Jesse and Liz Salinas. Therefore, Southern Front Doors has always been a family-owned door company. This is great for you as a Houston resident. We know that family matters most here.
Southern Front Doors meets or beats competitor pricing on the same products. You can save money with us as your provider. You may also browse our online inventory to see what we have in stock, from the convenience of your home or office. Click here to see them for yourself.
Interested in having a custom door made? We make those too. Southern Front Doors stains their own wood doors with an oil-based finish to give it a rich appearance. Of course, wood isn't our only craft. Our glass and ironwork are state-of-the-art. You have three options available to you for wood doors. Mahogany doors, Knotty Alder doors, and Andean Walnut doors. Either way, Southern Front Door promises the best quality. We also make wrought iron, fiberglass, and steel doors.
Our Sales Specials
Look no further for savings. At Southern Front Doors, we are always giving great customer service by providing our clientele with special offers. If you visit our deals page, you can see all of our special offers.
Southern Front Doors boasts an apples-to-apples policy, as mentioned before. We will meet or beat competitor pricing.
As for finances, we are pleased to partner with Synchrony Financial to be our lending partner at Southern Front Door. Seeking financing for your front and entry doors purchase is an attractive option that many of our Houston customers use.
No-interest financing available for 18 months for qualified buyers.
Rates available below standard retail for qualified buyers.
Quick response times.
Multiple payment options.
Convenient payment arrangements.
What Kind Of Doors Does Southern Front Doors Provide?
We offer many different kinds of doors, from both our sales inventory and custom made doors.
In our inventory, we have; mahogany doors, knotty alder doors, forged iron doors, fiberglass doors, rustic country doors, wrought iron doors, french doors, and many more. We carry just about every kind of door you can think of. If you need barn doors or 8ft doors or locks for said doors, we have it in stock.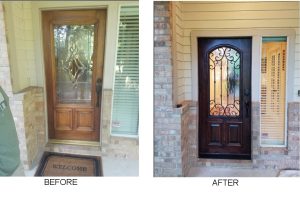 We also make custom doors. Show your neighbors your unique and beautiful door we made for you! If you like decorative glass for your exterior doors, we can do that. If you prefer wrought iron to give your home a castle-like appearance, we can do that too! As for our wood doors, Southern Front Doors stains them with an oil-based finish to give it a rich appearance. You will find that your doors are second to none in your neighborhood. In addition, we offer delivery and installation services.
Just look at these results!
What Can A Better Door Do For My Home?
A door is the first thing all houseguests encounter when visiting your home. It is a gateway, a beginning, a statement. It is equally practical and aesthetically pleasing when you have a great door.
In practicality, doors are foremost an opening. They need to be functional so that your home is both easy to enter and impossible to break into. Door repair is a huge inconvenience. If you have a door that is flimsy, then you're setting yourself up for failure. In the case that your door is wood, your home will be better insulated. Wood is a natural insulator of heat. Because of this, rooms with wood doors are better able to maintain the temperature of the room. They will also keep noise on its respective sides of the door.
For visual pleasure, great doors have become a modern trend. Many people are painting them bright, solid colors to make a statement. Being selective about the material and style is recommended. Ironwork done in the shape of vines is popular, as is decorative glass to give it a shine.
Your Houston door deserves the best, just like your home. Stun your family, neighbors, and all the residents of Houston with Southern Front Doors' amazing service.
About The Woodlands
The Woodlands is home to Houston's luxury community. There are many extensive shopping centers and resorts for you to visit here. The Woodlands is also fond of hiking and running trails through their beautiful landscape. Many Houston residents work, go to school, and live quietly in the peaceful expanses of the Woodlands. If you like a place with a strong sense of community, this could be the place for you. Take a look into what the community has to provide here.
Great! How can I contact Southern Front Doors?
Have you decided in favor of Southern Front Doors for door installation? You can visit them at 11234 Jones Road West, Suite B, Houston, Texas 77065 or call 281-890-5860. If you like to conduct your business online, email info@southernfront.com or visit their website here. Either way, great customer service is waiting for you when you call!
Contact Southern Front Doors today. They are looking forward to seeing you and providing you with the best Residential Doors For Sale The Woodlands TX has to offer.