Have you been searching for Wood Exterior Doors Houston TX? Chances are you have been looking for a reputable company to provide you with a doorway setup that makes sense. If you can't seem to find a company to help, Southern Front Doors is here to change things for you.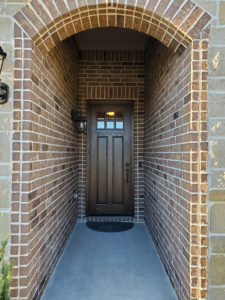 Your front door is an essential aspect of your house. Because of this, you should want a door that makes a great first impression. Southern Front Doors will always have the door styles you want, or we will make one ourselves! When you choose us to design and install you next door, we'll work hard to provide you with the entryway of your dreams. If you want Wood Exterior Doors Houston TX at the highest quality, then call us today!
Why Us?
When looking for a company that will give you an entry doorway that you like, you want to make sure that they have a reliable team of staff members willing and ready to help you through the process.  At Southern Front Door, we have designers, consultants, and staff members who derive joy in helping you out. They want to find you the perfect wood, fiberglass, iron, or steel door for your entryway and home. Give us a call and speak to one of our staff members to get started on what will be the door of your dreams.
We have been assisting homeowners and businesses all across the Greater Houston area for over 30 years, and we are proud to say that we always have delighted clients. Many of our clients have been searching of a door for their homes. Sometimes for months and usually don't find what they have been looking for from other companies.
That is where we always come in and offer them a wide variety of doors to choose from. We also even offer the opportunity to customize their door if that is what they feel is best for them. We want to offer you the same thing opportunity. Look through our large selection of doors and find the door you've always envisioned.
Wood Exterior Doors
Being able to service the Greater Houston community and other cities, we have noticed certain things that Houstonians and Texans prefer. A staple type of door in Texas is the classic Wood Door. All across the Houston area, you will see many homes with wooden homes because it is such a popular and traditional style door to have in your entryway.
If you are in the process of deciding the type of door you want for your home and business and think about having a wood entry door. There are so many benefits that come with having a wooden door. They come in so many different colors and stains; they are unique and classic, durable, and provide an ample amount of security. Read more about Wood Doors to help make your decision about getting a wood door today.
Durable Material
Something great about getting a door with us at Southern Front Doors is that all our doors are made of quality materials. Wood already is a durable material, so it is like you are getting double assurance that your door will be great.
Solid Wood doors offer a level of insulation as well. Meaning that on those hot summer days in your home, the door will "take in" the heat, but the heat will not damage the door. This makes your door long-lasting. It also allows the inside of your home to stay at the temperature you set.
Other doors made of different materials don't come with this natural insulation. A finish or a wrap is usually added to get this level of insulation, but you will be getting this without extra.
Search our inventory for Wood Exterior Doors Houston TX. 
Flexibility
It is usual for us to see clients that come in and either see what they like in our inventory but know t won't fit their doorway or have already come in knowing that they want to build a custom door for their home or business. Thankfully wooden doors offer the opportunity to be customized very easily.
You might feel like a solid wooden door is what your home, or business needs or you might want to put a little more into it and add glass inserts. Some like a door and want to change the color to fit the idea they had in their mind.
Wood is a flexible material and allows us to customize it any way you would like. So you can add a decorative glass piece that you saw on our website or frosted glass to bring in sunlight but still give you some privacy. You can also add stains and finishes that give your door a different color.
Security and Safety  
Doors aren't just for decoration. They all provide a certain amount of security for homes and businesses. If you are nervous about security breaches and break-ins, wooden doors offer a good level of protection.
Wood as a material is extremely thick and robust. It is not as easy to just kick through, and if you want to add decorative glass to your door, you can always add a thick glass. This allows for the whole door to be a security measure for your home.
In addition to just having a wooden door, we know that you might also add a multi-point locking system. With other doors, it might be hard to install locking systems depending on the material. Wood is an excellent material to add a locking system to. It allows for easy insulation, and you can add as many locks as you feel are needed for your safety.
Look through our gallery to see the Wood Exterior Doors Houston TX installed in the past. Send us an email with any questions you might have about our wood doors, and we will be happy to get back to you. 
Wooden Exterior Door Customizations 
Exterior Wood doors can add such a unique touch to a home and any building. We here at Southern Front Doors understand that everyone's taste is different that requires us to have a large selection. But in addition to that, we also give clients the opportunity to customize this door. 
This means customizing the size of the door to the exact measurements to their entryway, adding unique pieces to their door, taking an original design we have and making it their own, or even adding another material to the door. Anything that a client wants to do, we are able to do it for them.
Our professional design team will help you customize your door and give you a one-of-a-kind Wooden Exterior Door. 
For more information about our customization service, give our office a call, and a staff member will provide you with the information you need.
Wood Exterior Doors Houston TX
To find the perfect Wood Exterior Doors Houston TX is not easy. Finding a company, looking through their inventory, and finding what you like can be challenging. But at Southern Front Doors, we have what you're looking for and much more  
We are ready to take your entryway to the next level. Our installers, designers, and consultants are here to offer their help to you anytime you need it. Don't settle for a door that doesn't really fit your expectations.
When you need Wood Exterior Doors Houston TX, visit Southern Front Door.
Fun Facts About Houston, TX 
Houston has a unique museum district, unlike most major cities. This system offers a range of art, galleries, museums, and cultural institutions, including the City's most prominent museums.

Over ninety countries have consular offices in Houston. This is the third-highest in the nation, and our residences and council members alike are very proud of that figure.

Houston gets over 16,000 international patients who fly in to get medical treatment, making it the world's medical capital.

To learn more exciting facts, please visit them!