Have you been searching for Wood Exterior Doors Houston TX? Chances are you have been looking for a reputable company to provide you with a doorway setup that makes sense. If you can't seem to find a company to help, Southern Front Doors is here to change things for you.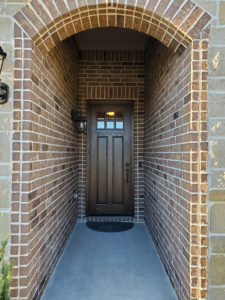 Your front door is an essential aspect of your house. Because of this, you should want a door that makes a great first impression. Southern Front Doors will always have the door styles you want, or we will make one ourselves! When you choose us to design and install you next door, we'll work hard to provide you with the entryway of your dreams. If you want Wood Exterior Doors Houston TX at the highest quality then call us today!
Expert Team
Our installers and consultants can help you find the perfect wooden product that makes sense for your house. Read more to find out additional information on how we can help install your wooden doors. There are many Houstonians and Texans alike who love the look and feel of a wooden door.
Regardless if you're from El Paso or Austin, you will see the value and elegance in this type of material. Many of our customers and clients grew up with these types of doors in their primary residence. If you want to have something to remind you of the simpler days, our professionals can install it for you very quickly.
Durable Material
Another great thing about having wooden doors is the level of insulation it will give you. While these types of doors sometimes have bad wraps when it comes to insulation, many people report otherwise. When you have a heavy-duty door set up correctly, you won't worry about the extremes.
You and your family will be safe and away from the potential climate change thanks to these wood entry doors. Your search for Wood Exterior Doors Houston TX can end today with us.
Secure and Safe Solid Wood Doors 
While you might be afraid of the possible security breaches of wooden doors, there are ways to prevent this. Have you ever used a multi-point locking system for a door? When you have this type of technology, you'll be pushing pins into all four sides of the lockset. As a result of this, it will be very safe and secure if thieves try to compromise.
High Level of Security
Another prevalent form of residential locksmithing is keyless entry. Having a pin pad on your door lock that has an electronic code could give you more security. Many residences are beginning to do this, and we think it could be a welcome advancement in your home.
Consult your local locksmith after getting your door installation to ensure you find the right security for you. Another standard upgrade that people like to do to their wooden doors is weather stripping. Depending on the weather, you probably want your indoor residence climate to stay controlled and to your liking.
Amazing Insulation
If you don't have insulation around the corners of your entryway, you'll be letting in either hot or cold air at all times throughout the night. To make sure this doesn't happen, call in our installers. We've got a ton of ways to help you keep the undesirable climates out.
Cold months like December and warm months like July should be peaceful regardless of the outdoors. If you want your home to be protected from Houston's unexpected climate, know that we can help. When it comes to your door, don't settle for less! Many commercials doors out there are mass-produced and made with cheap materials.
Wooden Exterior Door Customizations 
Have you always been a big fan of exterior doors made out of wood that is slightly different from the rest? At Southern Front Doors, we understand that lots of customers have different types of tastes and styles. If you are looking for a company that can support your doorframe with stained and decor glass, let us know.
Individual Styles
Our custom door options are perfect for your needs. If you're trying to find something that's entirely unique to your residence, let us know, and we can help. Our professional design team can help you provide a one of a kind experience for your curbside exterior. A lot of people make the mistake of trying to find the cheapest wooden front entry door possible.
Cost-Effective
While this can be cost-effective upfront, it usually does not pan out to success. Lots of companies will use subpar materials to lower their costs. As a result, customers and clients invest hard-earned money in services with no plans ever to hold up. If you want a business that will provide you with a wooden entry that lasts, our pros can help you with that.
Flawless Installations
All it takes is a few refinishing and sealings, and you'll have a lasting product that makes sense. We pride ourselves on having competitive prices that keep up with or exceed the competition. We understand that quality doors from companies like MAI and Therma-Tru are not always cheap.
However, compared to manufacturers and retail chains, our rates are highly prospective. If you'd like to start figuring out a way to upgrade your doors affordably, this is the best way to go. Once we install your beautiful door, you'll be glad you called us. We also have a great selection of wrought iron doors and fiberglass doors. 
The Door of Your Dreams
Wood Exterior Doors Houston TX services aren't always easy to find. It can take a lot of searching and scavenging to find the right company for your specific setup. If you'd like to figure out something much better for your doorways and you're ready for a change, we can help. As you can see, we are determined to find something that you're happy with. 
Here at Southern Front, we have installers, designers, and consultants who can help. Don't settle for a door that doesn't live up to your expectations. When you need Wood Exterior Doors Houston TX, trust us to impress you, contact us today!
Fun Facts About Houston, TX 
Houston has a unique museum district, unlike most major cities. This system offers a range of art, galleries, museums, and cultural institutions, including the City's most prominent museums.

Over ninety countries have consular offices in Houston. This is the third-highest in the nation, and our residences and council members alike are very proud of that figure.

Houston gets over 16,000 international patients who fly in to get medical treatment, making it the world's medical capital.

To learn more exciting facts, please visit them!