How to Design Your Dream Front Door
How to Design Your Dream Front Door
Are you a homeowner looking to add some extra appeal to your front door? There are many ways you can add extra appeal to your front door. By either lights, new flowers, or a wreath. But, if you are really wanting to add appeal to your front door and impress everyone that walks by. Then designing your dream front door will add sophistication and appeal to your front door easily. With a custom door, you will be able to get the exact aesthetic you are wanting on the outside of your home. Brought to you by Southern Front Doors, in this blog post, we are going to highlight how to design your dream front door with the assistance of Southern Front Doors today.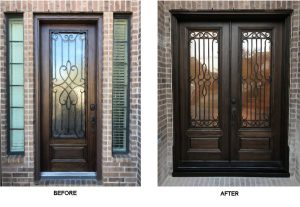 One of the benefits offered with custom doors is the ability to choose the design that is the best fit for your home. Doors are offered in a variety of standard sizes. They come with a variety of patterns that you can hand pick to fit the aesthetic you are looking for. The glass panes also have various treatments to choose from to help maintain privacy. With custom options, you can have a say in everything from the size, to the pattern, and to the window treatment. With these custom options, it can be easy to find the features that best fit your needs. And the design that you have always dreamed of having. 
The process of Custom Doors
If you have decided that you are wanting new doors, but do not know where to begin. The answer is simple, you will first give us a call by dialing 281-890-5860. During the initial phone call, our experts may ask you questions such as-
What is the exterior of your current door? (I.E. wood, fiberglass etc.)

How many doors are you looking to have replaced?

Do you know roughly how large your current door openings are?

How old are your doors?
These are just some preliminary questions you may be asked over the phone. Before one of our specialist visits your property. Once your appointment is scheduled, your expert contractor will visit your home. During this visit, your contractor will be able to see your doors and learn more about your home. During your appointment, you will be able to learn about the different brands and styles that we offer. We offer top quality brands such as Buffalo Forge and GlassCraft. You will be able to look at the different styles and show your contractor which styles you like best to design your dream front door.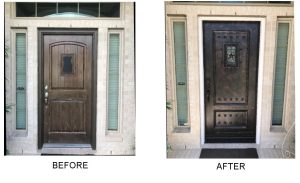 Contact the Professionals at SouthernFront Doors
At SouthernFront Doors, we provide the best custom doors that you can find in Houston. We can build your custom door to fit your exact needs. From style to design and to color. We can design the perfect door for you that people will be drawn to. So, stop waiting to install new doors and give us a call today by dialing 281-890-5860 to schedule your appointment today. Because there are few companies in Houston that match our level of attention to detail and dedication to customer service.