Cast Iron Front Door
Are you looking to add extra appeal to the outside of your home? If that is something you are looking into, then a Cast Iron Front Door may give you the appeal and sophistication you are looking for. Because your front door is seen by everyone, you do not want a door that lacks appeal. So, if you are considering adding a Cast Iron Front Door to your home. In this article, we will highlight the key reasons to invest in new doors. They include-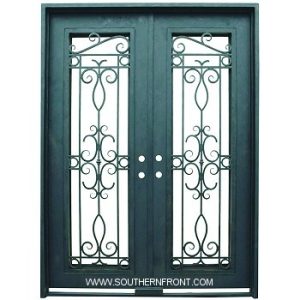 Curb Appeal

Home Value

Lifetime Investment

Natural Light

Energy Efficient

Easy Maintenance

Added Security
Curb Appeal
Cast iron doors are elegant and powerful. Improving curb appeal may not be your ultimate objective, but the advantages brought by having cast iron doors certainly help your home in these ways:
Visually appealing

Good first impression

Sophisticated feel

Distinctive look
Your curb appeal is important because it shows others that you care about your home. You want it to look nice and add value to your neighborhood. Instead of having a home that looks abandoned and unkempt.
Home Value
Every home is perpetually in a hushed battle to retain or boost its value. Upkeep is constant and expensive. Because of this, influences beyond your control can have an adverse impact on your home's cost. Protecting your investment is vital. Because every homeowner wants to see a return value on the big investments that they make.
The impact of a strong home entrance is the first impression home buyers will get when entering your home. You want to make a strong first impression. And research shows that over 90% of homeowners will see a return investment on their iron front doors.
Lifetime Investment
Cast Iron Front Door is designed and built with the best materials possible. They are engineered and assembled to last a lifetime. A wood door can rot and deteriorate over time. But iron doors are designed to be rust resistance, weather resistance, and rot resistance. This is all done by the iron that is used and how it is melted down and depleted of its carbon content. Having a door that is rust, weather, and rot resistance adds a longer life-span to your door. You will have the door for a longer period of time compared to a wood door. Because of these reinforced durability measures.
When you have iron doors you are having doors that are made of thick, 14-gauge iron. This thick iron will help prevent dents, weather impact, and odors passing through your door. Nowadays, homeowners are searching for doors that can endure high weather impact to protect their family. Which is why iron doors are a great lifetime investment.
Natural Light
Wrought iron and steel are unbelievably strong. With Cast Iron Front Door, much of the largest proportion of the door can be transformed into privacy glass or clear glass. With an iron doorway, abundant, life-affirming natural light can beacon your entrance hall without relinquishing security. Because of this, you get the advantages of a sturdy, safe iron front door and the warmth of sunlight.
Energy Efficient
Modern, beautifully engineered iron entrances are fully isolated with polyurethane foam. This, plus five-eighths-inch insulated glass, cater energy efficiency without sacrificing ventilation. Because of this, iron doors are carefully weather-stripped around the doorway and glass to prevent water and breeze infiltration. The natural light penetrating through the expanses of glass also helps avoid turning on lights when sunlight is abundant and free. This design will ensure that your energy bills will be lower and more efficient.
Easy Maintenance
Simple oil soap keeps your iron openings clean, shiny and beautiful. No need for special products or constant rubbing. The beauty of Cast Iron Front Door is baked in. Meaning, the beauty will last through changing weather and temperatures. Just use soft cloths to keep your iron entrances appearing great for decades.
Added Security
Possibly the most important aspect of having a Cast Iron Front Door is security. Burglars will get one look at your imposing and grand iron doorways and opt for an easier target. Iron entrances are far harder to break through than glass or wooden entrances and will make a distinctive tone when struck. You and your family can rest easy knowing that you have an extra safeguard when you install iron doors.
Southern Front Doors
As you can see, there are many benefits to installing a Cast Iron Front Door in your home. You will have added security, easy maintenance, energy-efficient natural light, durability, and added home value and curb appeal. With all of those benefits, you can see why iron doors are popular with homeowners. With SouthernFront Doors, you will get fantastic Cast Iron Front Door, great prices, and excellent customer service. Give us a call today to learn how we can transform your doors at 281-890-5860. Or stop by our showroom off of Jones Road to see what we can offer you today.