Looking for Houston custom doors for your residential space? Perhaps your entryway has a very peculiar shape and size to it, and your last door didn't fit. Maybe you just moved in and you're ready to make a personalized stamp on your brand new home. Whether your taste is classic or contemporary, you can count on our customizable door options to have your style. Southern Front commits to providing Houstonians and Texans alike with unique doors at the right price.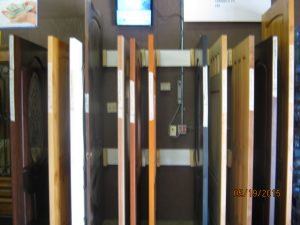 Making sure you get the right front door for your home is probably very important to you. On many occasions, your entryway is a guest or client's first impression of your residence. If you need assistance finding something that looks great with the rest of your exterior, Southern Front can help. Consult with our experts so we can find something that's unique to your taste and complementary to your home.
Have you been dreaming of having a wrought iron entryway for years, but you want something that's unique? Even though this material is very heavy and durable, it comes with many possibilities. You'll be able to customize this to your liking and get the exact design you're looking for. At Southern Front, we make sure your Houston customers are exactly what you want. Regardless of what they're made of, you can count on our crew to get the job done.
Customizable Doors That Fit Your Home
Are you a big fan of decorative and stained glass but you want to retain your privacy? This is a very common method of adding pop and pizzazz to your entryway. It can also be a great way to let some additional light into your living room. With our designers, you won't have to worry about your door being see-through. Frosted glass, leaded glasses, and film are only a few of the solutions we can use for your unique door.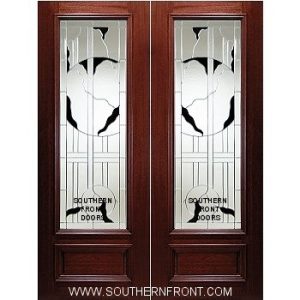 Glass staining isn't the only way you can make your door stand out, though. Looking for some adjustable thresholds that you can use to protect you from the weather? Maybe you're trying to find a particular rail and stile for your wooden door. We have a wide variety of customizations on our website. Furthermore, you can always call us to speak to an expert about the many options in front of you.
Have you always been a big fan of the look of wooden doors, but you want something that's different? Many of our wood-based options can contain features such as stained or transparent glass. The glass-related possibilities are nearly endless, and you can definitely find a unique solution with our services. We'll make sure that your rustic entry door stands out from the crowd.
If you're looking for a low-maintenance way to have a nice front door, fiberglass is the choice for you. These types of doors are insulated, lightweight, and very customizable. Are you trying to get a very specific shade, finish, or glass insert added? If so, fiberglass-composite material is definitely a great option for your entryway. Even though it's lighter than some of its other options, it still retains durability. You'll have tons of customization possibilities if you go with this as your entryway.
Custom Entryway Options That Will Stand Out From the Crowd
You might be very familiar with steel doors and you'd like to carry this experience over to your new home. If you're ready to replace your current front door with something that's a little bit different, contact us. Even though steel is a very straightforward material, there are many options to choose from. We have an assortment of finishes that can make sure your doors stay special and unique.
Worried that adding too many customizations and add-ons to your door will compromise its performance? We understand that keeping your family comfortable is important in Houston. The weather can get extreme, and having a consistent, trustworthy entryway is very important to make sure you don't suffer. With our double and triple panel glass options available, you won't have to worry about this. Every customization we make will have your safety, budget, and taste in mind.
Trying to maximize the value of your home and you can't think of what to do first? Replacing the front door of your residential space can be an absolute game-changer. When it comes to real estate, you want your property to stand out from the rest. Don't want your home to be another generic building on the block? Having a customized entryway that looks different from the rest on the street is a great way to start.
Call us today to get your Houston custom doors!
There are tons of Houston custom doors out there, and it can be overwhelming not knowing what to choose. Don't settle for a product that doesn't truly meet your needs and desires for your home. Finding the perfect doorway is a priceless experience, and our experts can help you every step of the way. If you want professionals who can guide you in the right direction, Southern Front is here to help. Give us a call at your earliest convenience (281-890-5860) to find a customized door that fits your local home perfectly. Or visit us online at https://www.southernfront.com (or  info@southernfront.com ). Our team is located at 11234 Jones Road West, Suite B, Houston Texas 77065, So stop in and let us see what we can do for you.
Facts about Houston, Texas:
In August 30, 1836, Houston became a city. Augustus Chapman Allen joined his brother John Kirby Allen to develop land near Buffalo Bayou.
Houston's Consolidated Metropolitan Statistical Area spreads over 8,778 square miles. This entire area actually equates to being larger than the entire state of New Jersey.
Houston is one of the most diverse states in the USA. Houstonians are speak over 90 different languages in various pockets of the city on a daily basis.