Make a Statement with Wrought Iron Doors
Make a Statement with Wrought Iron Doors
Are you looking at your front doors and realizing how drab it looks? Perhaps you are looking to make a statement with wrought iron doors, but you are not sure where to turn to. If this sounds like you, Southern Front Doors has got you covered. We offer the most unique and elaborate wrought iron doors so you can make the statement you want. Wrought iron doors have been popular with homeowners for many years because of their appearance.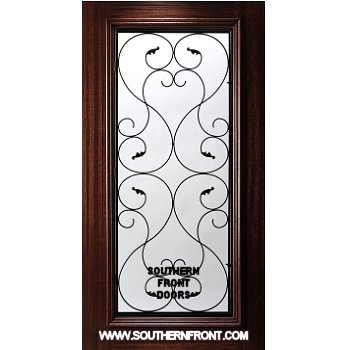 Wrought iron doors make an extraordinary impression on your home. It makes your home stand out amongst the other homes. And add a level of elegance that most wood doors lack. Because of this, wrought iron doors are extremely popular amongst homeowners looking to transform their front door appearance. The wrought iron doors that we offer here at SouthernFront Doors are stylish and will provide your house with elegance and class. They have stunning craftsmanship that is unique than other doors. Which is why many homeowners are drawn to wrought iron doors before knowing the other benefits these doors have to offer. Wrought iron doors are not just pretty, they also provide other home benefits. These include added security, more durability and strength, light and visibility, and simple maintenance.
Wrought Iron Doors Will Transform More than the Appearance of your Home
With wrought iron doors, you are adding an extra layer of security to your home. Iron doors can be effective against thieves that wish to break into your home. Iron doors are made from a process of smelting iron ore while depleting its carbon content, making it stronger and more resilient. Which means it is harder to break into. Moreover, iron doors are fire resistant. Adding another layer of protection to your home. 
Did you know that wrought iron doors are designed to be rust resistance, weather resistance, and rot resistance? This is all done by the iron that is used and how it is melted down and depleted of its carbon content. Having a door that is rust, weather, and rot resistance add a longer life-span to your door. Often homeowners get frustrated when their doors being to look old and worn out. But, wrought iron doors are completed with finishes that are literally baked right in. Making it is easy to keep looking great and not worn out. All you need it to just use an oil soap to keep them looking shiny, clean, and beautiful.  Unlike some other doors, with wrought iron doors, you won't need to care for them as often or use any special polishes to maintain their appearance.
Reach out to SouthernFront Doors Today!
At Southern Front Doors, we provide the best-wrought iron doors that you can find. We have over 100 different styles that you can select from. Or we can custom build to fit your exact needs. So, stop waiting to install new doors and give us a call today at 281-890-5860 to schedule your appointment today. Because there are few companies in Houston that match our level of attention to detail and dedication to customer service.