Are you a homeowner looking to add some extra appeal to your front door? There are many ways you can add extra appeal to your front door. By either light, new flowers, or a wreath. But, if you are really wanting to add appeal to your front door and impress everyone that walks by. You are looking for a Customer Iron Door. Having a custom door will add sophistication and appeal to your front door easily. With a custom door, you will be able to get the exact aesthetic you are wanting on the outside of your home.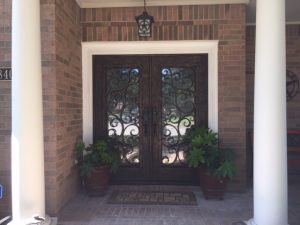 But, every time a homeowner hears the words "custom", they immediately think expensive and begin to back away from the idea. But, "custom" does not need to mean expensive. At SouthernFront Doors, custom means ensuring that you get the exact door that you are imagining. And still at a great price.
Because choosing an entry door for your home is an important decision. It is the first thing people are seeing when they are visiting your home. There are many benefits to Custom Iron Door you may want to consider before investing.
Designed for Your Home
One of the benefits offered with custom doors is the ability to choose the design that is the best fit for your home. Doors are offered in a variety of standard sizes. They come with a variety of patterns that you can handpick to fit the aesthetic you are looking for.
The glass panes also have various treatments to choose from to help maintain privacy. With custom options, you can have a say in everything from the size, to the pattern, and to the window treatment. With these custom options, it can be easy to find the features that best fit your needs. And the design that you have always dreamed of having.
Durable and Secure
One thing you will want to know about having a Custom Iron Door is how durable they are. Countless iron doors are built to pass the coastal hurricane experiment to ensure that they can be installed in any residence. This means your doorway can stay fasten even during the most difficult climate. More than that they are also built to be resistant to chemicals and changes in temperature. Many of these doors contain constriction locks that are capable of handling up to 2000 pounds of distress to secure the window panes. This is an added bonus if you live in a stormy area.
Iron doors are designed to be rust resistance, weather resistance, and rot resistance. This is all done by the iron that is used and how it is melted down and depleted of its carbon content. Having a door that is rust, weather, and rot resistance add a longer life-span to your door. You will have the door for a longer period of time compared to a wood door. Because of these reinforced durability measures.
Improved security is another benefit of having an iron entry door. Since they are more difficult to enter, they tend to discourage thieves from breaking in. While they are not absolutely indestructible, they are heavy and sturdy, impelling it difficult to trespass.
Moreover, iron doors are fire-resistant. Computing another bed of protection to your residence. With iron doors, you are providing a 24/7 seam of security for you, your family, and your home assets, which will give you another layer of improved security.
Built to Last
Iron doors are also built to last a lifetime. Made with a 12 gauge metal and heavy-duty ball bearing hinges. These doorways have been designed to last as long as possible. Their metal construction means that the door won't distort or when exposed to the elements. Nowadays, homeowners are searching for doors that can endure high weather impact to protect their family. Which is why iron doors are a great lifetime investment.
Where to Get the Best Custom Iron Door
Now that you have a full understanding of the many benefits of installing a Custom Iron Door. Other than their visual appeal. At SouthernFront Doors, we provide the best Custom Iron Door that you can find in Houston. We can build your custom door to fit your exact needs. From style to design and to color. We can design the perfect door for you that people will be drawn to. So, stop waiting to install new doors and give us a call today at 281-890-5860 to schedule your appointment today. Because there are few companies in Houston that match our level of attention to detail and dedication to customer service.