What is the Appeal of Iron Front Doors
What is the Appeal of Iron Front Doors
Are you a homeowner that is looking to change the appearance of your front door? Perhaps your front door is looking worn and you are wanting to update. Maybe you have been wanting to install iron front doors on your home, but you are looking for more added benefits before making the financial investment. Or maybe you are wondering what is the appeal of iron front doors. Whatever the case may be, Southern Front Doors is has got you covered. It is no secret that iron front doors deliver a visual appearance that is beautiful and sleek to homeowners. While visual splendor is a benefit to having an iron door installed at your home's front stoop, there are a few additional advantages as well.
Iron Front Door
An iron front door can last for years on end. It is no secret that when living in Texas the weather is frequently changing. Because of this, frequent weather changes can wear down the quality of a pure iron door. However, a custom-made door infused with steel can withstand whatever elements are thrown its way. Are you looking to install an iron front door for added security?  Taking the durability a step further, an iron front door acts as an excellent deterrent for trespassers. The strength and stability of wrought iron is unmatched, especially if you opt for a heavy gauge style.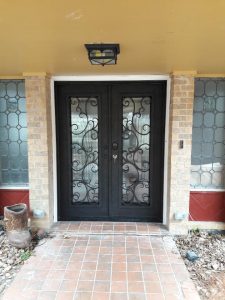 Iron front doors are handcrafted, so the design possibilities are endless. Curves, angles, and geometric shapes can be reflected on the door's surface to complement the style or time period of your home. A frosted or textured glass window may even be added for extra privacy that you are looking for. Whatever you are looking for, here at SouthernFront Doors we have the capability and knowledge of creating an iron front door that is perfect for your home today!
Reach out to SouthernFront Doors Today!
At Southern Front Doors, we provide the best iron front doors that you can find. We have over 100 different styles that you can select from. Or we can custom build to fit your exact needs. So, stop waiting to install new doors and give us a call today at 281-890-5860 to schedule your appointment today. Because we provide the best installation, customer service, and selections in the Houston area. That we are sure you will not be disappointed in.