When Should you Replace your Wooden Door?
Are you questioning when you should replace your wooden door? It might be time to retire that old door frame for something new and improved that will work for you! With the help of Southern Front Door, you can upgrade your entryway. Though most wood doors are supposed to last anywhere from 20-25 years, if you are experiencing issues with your door, then it might be time for an upgrade.
If you begin to notice damage to your door or even issues trying to close the door and lock it, this is the time to invest in a new entry. Over time, your door goes through a lot of roughening up from your family and the weather conditions. However, you do not need to put up with these issues if they bother you. The best part about these wood doors is the choice you have in what type of wood you want.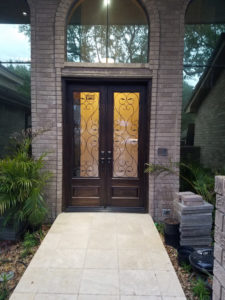 Types of Wood
Mahogany, Andean Walnut, and Knotty Alder are all great wood doors to choose from with a customized finish that you will love. The best part about these doors is you can select the exact style you want. The numerous perks of wood doors cannot be beaten. These doors allow insulation, longevity, and flexibility to come with ease. Wood doors are natural insulators, so you never have to worry about the heat destroying them. Additionally, wood doors are noise counselors as well. 
With over 24 different colors to choose from in paint and polish, you can have a door that is built for you. With the help of our Windstorm protection, we create dors that will withstand any disaster that comes your way. We promise to make sure your home is safe and out of harm's way. A beautifully crafted wood door is waiting for you today! 
If you have questions about getting a wood door that works for you, you need to call today. Southern Front Door is here to make sure you have the door you want. Please feel free to visit our website to look into our services and inventory of different door styles and finishes.